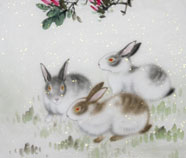 Rabbit/hare
is an auspicious animal and regarded as a symbol of auspiciousness. It is also one of the twelve Chinese zodiac signs.
Auspicious &Fengshui Meaning
Chinese Rabbit/Hare Painting, Two(2) Rabbits/Hares Painting : symbolize tranquility, peace and mildness.?
Rabbit Fengshui Painting/Scroll: "Rabbit(兔子)" sounds the same as that of "spit out a child(吐子)" in Chinese, so its images symbolize the prosperous offspring generation after generation.
Snake and Rabbit Feng Shui Painting: In China, it is a common saying that "It's sure that: you would become rich if you have a painting in which there is drawed a snake intertangling a rabbit". Because the snake is regarded as a clever animal and good at making money, while the rabbit is a mild animal and good at holding on to the money, so they are the perfect combination drawings as the symbols of "increasing income and reducing expenditure", and "building up family fortunes". This combination picture often refer to the marital unit, and is used to express the wishes for perfect marriage and prosperous family business.?
Read More