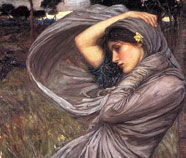 John William Waterhouse was born in the mid-19th century, at a time when the Industrial Revolution was in full swing and poverty was rife within the poorer communities of his native country of England. In the art world, many professionals were rebelling against the pure and realistic lines of the Neoclassical period to have come before them. They started to produce paintings and sculpture which took the viewer into a new world, far removed from the realities of everyday life.
In England, after several attempts at admission to the Royal Academy, Waterhouse finally succeeded entrance in 1874. At the age of twenty-five, Waterhouse submitted the classical allegory "Sleep and His Half-Brother Death" to the Royal Academy's Summer Exhibition. The painting was very well received and he exhibited at the RA almost every year afterwards until his death in 1917. In 1895 Waterhouse was elected to the status of full Academician. He taught at the St. John's Wood Art School, joined the St John's Wood Arts Club, and served on the Royal Academy Council. Although often classified as a Pre-raphaelite for his style and themes, Waterhouse is truly a Neo-Classic painter.
One of Waterhouse's most famous paintings is "The Lady of Shalott", a study of Elaine of Astolat, who dies of grief when Lancelot will not love her. He actually painted three different versions of this character, in 1888, 1896, and 1916.
Another of Waterhouse's favorite subjects was Ophelia; the most famous of his paintings of Ophelia depicts her just before her death. Like The Lady of Shalott and other Waterhouse paintings, it deals with a woman dying in or near water. He also may have been inspired by paintings of "Ophelia" by Dante Gabriel Rossetti and Millais. He submitted his "Ophelia" painting of 1888 in order to receive his diploma from the Royal Academy. After this, the painting was lost until the 20th century, and is now displayed in the collection of Lord Andrew Lloyd-Webber. Waterhouse would paint Ophelia again in 1894 and 1909 or 1910, and planned another painting in the series, called "Ophelia in the Churchyard." Waterhouse went on to paint well over 200 paintings depicting classical mythogolgy, historical and literary subjects, particularly those of Roman mythology and classic English poets such as Keats and Tennyson. Femme fatale is a common theme in his works, as most are of beautiful elegaic women and of many men are victims.
Waterhouse is one of the rare artists who became popular and relatively well-off financially when he was alive. He continued to paint until his death on the 10th of February, 1917 after a long illness. His style became a major influence on many of the later Pre-raphaelites. Waterhouse could not finish the series of Ophelia. He died from cancer in London, 1917.
Read More