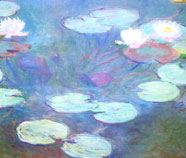 Summer artworks usually include blue sea, green lake, shipping boat, lurch tress, swimming boys, etc. In summer, we tend to seek coolness, clean out our house, hide from the glaring sun, and why not turn your house cool with a seasonal summer painting?
How about hanging a Monet's Water Lilies in your living room, Van Gogh's Fishing Boats on the Beach at Saintes-Maries in your bedroom, Hopper's Rooms by the Sea in your bathroom, Kandinsky's Rapallo, Boats in your lobby? Artisoo seasonal summer painting reproductions could make this true. We have experienced artists using high-quality and environmental materials to capture every details of the original masterpiece.
Shop around summer oil paintings on our site and find the perfect seasonal summer oil painting for your wall.
Read more