Chinese painting artist: Xiao Meng
Xiao Meng's Biography&Awards:
Xiao Meng, alias Chen Yong Ping, native of Jishan county of Shanxi province. He graduated from China Central Academy of Fine Arts&Craft. Now he's the chairman of Menglong Calligraphy and Painting Seminar, member of International Calligraphy and Painting Seminar of China and Shanxi Artists Association, full-time painter of Fenshui Art Academy, research student of Beijing Art Academy. Skilled in landscape painting and figure painting.

He developed a new style called "Cai Mo Meng Long" painting which he boldly make attempts to use watercolor techniques like splash-ink and splash-color to create traditional landscape painting. 

Meng Long painting takes the art taste of traditional Chinese paintings as the foundation, and concurrently contain the effects of light and color in gouache, watercolor and oil painting. Its style neither use "focus perspective" of western classical painting, nor use "splattering perspective" of traditional Chinese painting. Meng Long painting is the combination of the western painting quintessence and Chinese painting verve, immitting fresh connotation for traditional Chinese painting. 
His works intend to express the quiet, easeful, solemn and elegant feeling.
小蒙,原名陈永平,山西稷山人,中央工艺美院毕业,现任朦胧书画研究会主任,北京画院研修生,中国国际书画研究会会员,汾水画院专职画家,山西省美协会员。擅长山水、人物。

其独辟蹊径,首创彩墨朦胧山水,泼彩泼墨,大胆尝试用水彩画技法画中国画。 

朦胧画以传统国画的艺术品位为基础,兼容水粉、水彩、油画光感色彩,其绘画形式既不象西方古典绘画"焦点透视"的客观集中,也不象中国画"散点透视"的错落安排。是西方绘画精神与中国画神韵的巧妙结合,给"似与不似之间"注入了新的内涵,作品意在表现静、逸、穆、雅之感。
Xiao Meng's Chinese painting: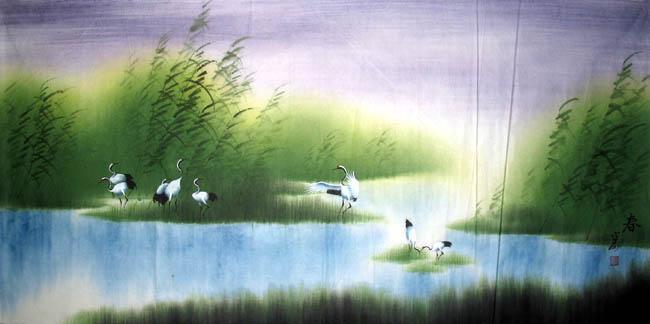 View more Chinese paintings by Xiao Meng
Customize Xiao Meng's Chinese Painting:
Do you want to ask our Artist/Painters Xiao Meng to paint one for you according to your sepcial needs? Such as sizes, prices. Or you can send the sample pictures to us as reference. Please contact us.