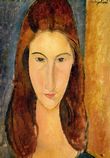 Amedeo Modigliani was born July 2, 1884, in Livorno, Italy. Modigliani came from a wealthy background. His family were Sephardic Jews, and when his father's career was ruined as a banker, he was forced to work as a wood and coal merchant. Sadly, Amedeo lost his father while still a young boy.
He worked in Micheli's Art School as a very young boy. His earliest formal artistic instruction took place in an atmosphere of the styles and themes of nineteenth-century Italian art. In his earliest Parisian work, traces of this influence, and that of his studies of Renaissance art, can still be seen. His connection with the French Impressionists was through Guglielmo Micheli, his first art teacher. He preferred to paint indoors.
In 1902, Modigliani enrolled in the Accademia di Belle Arti or "Free School of Nude Studies" in Florence and year later, at the Istituto di Belle Arti in Venice. It is there that he started bohemian life. Having been exposed to erudite philosophical literature as a young boy, he continued to read and be influenced through his art studies by the writings of Nietzsche, Baudelaire, Carducci, Comte de Lautréamont, and others, and developed the belief that the only route to true creativity was through defiance and disorder.
Five years later in 1907, he arrived in Paris, ready for fame and fortune, but within weeks he found himself penniless, and had to move from one seedy hotel to another. He was getting out 'n' about however, and meeting all the famous writers and artists of the day from Picasso to Utrillo. According to a good friend of his, he looked very dashing in his brown corduroy coat that he wore everywhere, the bright scarf around his neck, and his broad felt hat. He was very handsome, brooding and thought of as eccentric by his close friends. Modigliani did crazy things in Paris, like dancing in the moonlight with a famous prostitute and getting jailed for drunkenness constantly. He was very successful at attracting women, who found him quite irresistable, and he could always find willing models to paint. Modigliani was involved in one love affair after another, and was completely swallowed up by the dark side of the Parisian nightlife. Women quite fascinated him, and he once said, "Women of beauty worth painting or sculpting, often seem encumbered by their clothes".
During his early years in Paris, Modigliani worked at a furious pace. He was constantly sketching, making as many as a hundred drawings a day. Many of his works were lost - destroyed by him as inferior. He was first influenced by Henri de Toulouse-Lautrec, and later with Paul Cézanne. Eventually he developed his own unique style, one that cannot be adequately categorized with other artists.
On December 3, 1917, Modigliani's first one-man exhibition opened at the Berthe Weill Gallery, and forced to close the exhibition within a few hours after its opening.
In 1918, Jeanne gave birth to a daughter. Amedeo was overjoyed, but he soon had to begin moving his little family around from hotel to hotel. Amedeo was terribly ashamed at not having enough money to support his family. Jeanne even left their little daughter with her wet nurse, and began to paint once more, using her husband as her model.
Modigliani became weaker and weaker, yet still he continued to paint the people around them. He was a remarkable painter, and it shows through his compelling portraits. He often deliberately chose sickly children to paint, feeling a connection with them and their sickness. He had a love of the humble people, which he expressed in his drawings, his paintings and his choice of models. He would often be seen on the terraces, drawing portraits and then offering them to his subjects, in the hope of getting a drink in return.
In the middle of January, his friends found him as he lay dying in his studio, next to his distraught wife. They took him to a hospital, where he later died of tubercular meningitis, combined with the affects of too much alcohol and drugs. Amedeo Modigliani died while just 36yrs, January 25th, 1920. The next day, his hysterical wife threw herself from a window of her parent's home. Jeanne was 9 months pregnant and carrying their third child at the time. Sadly, both Jeanne and her unborn child died instantly.
Read More