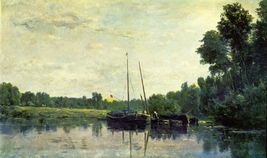 During the nineteenth century, several progressive artists emerged who impacted the future direction of art and its public acceptance; Charles-Fran?ois Daubigny was one of these artists, influential through his work, and also as a fervent supporter of the emerging Impressionist group. Even though he became a well-established landscape painter, his work often solicited mixed responses from critics that lasted throughout his public artistic career. As he matured in his career and his work, so did his style, and although he attained success, those pictures most appreciated by the public were those least appreciated by Daubigny himself, attesting to his work's dual nature of salability and progressiveness. Like many other artists, his style opened the doors for the younger generation, but Daubigny combined his talent for painting and printmaking with a will to uphold the ideals of his artistic taste by taking decisive action that often showed his support for newer tendencies.
Charles-Fran?ois Daubigny was born on February 15, 1817 in Paris. Daubigny was taught how to paint by Paul Delaroches and his father, the landscape painter Edme-Fran?ois Daubigny. From 1838 Daubigny regularly contributed to exhibitions, but did not reach his full artistic development before 1848, when he received great public acclaim for his landscape paintings, which were some of the first plein air paintings.
From 1843 Daubigny was in contact with the school of Barbizon, without, however, joining them closely. Daubigny's ambition was to liberate the landscape from poetic and subjective additions and to produce an untainted, immediate reflection of nature. According to him, the personal emotions of the painter must not enter the reflection of what is seen.
Later, Charles-Fran?ois Daubigny got lost in a sketchy style and was content with the depiction of a general impression. In 1852 he met Jean-Baptiste Camille Corot in Cremien (Dauphine), with whom he traveled to Switzerland and France and entertained a life-long friendship.
1857 he turned the boat "Le Botin" in Auvers-sur-Oise into a floating studio and traveled along the rivers Seine and Oise. At that time, the subject matter of his paintings completely stopped being anecdotal. He spent the summer of 1865 with Gustave Courbet, Eugène Boudin and the young Claude Monet in Trouville. From then on, his paintings became lighter and more liberal, shapes began to dissolve in colored harmonies, and he anticipated important elements of Impressionism.
Charles-Fran?ois Daubigny died in Paris on February 19, 1878.
Read More