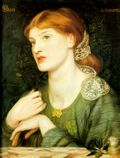 Dante Gabriel Rossetti was born in London. His father, an Italian political refugee, was a poet and Dante scholar and from 1831 Professor of Italian at King's College, London. His mother, who was half Italian and half English, was a private teacher. His sister Christina (1830-94) later became a poet. He entered Sass's Drawing Academy probably in late summer 1841. He joined the Royal Academy Schools as a probationer in 1844, becoming a full student in December 1845. By 1847 he was considering careers in both poetry and painting. He was briefly a pupil of Ford Madox Brown in March 1848.
In August 1848 he moved with William Holman Hunt to a studio in Cleveland Street and around September that year founded, with Holman Hunt and J.E. Millais, the Pre-Raphaelite Brotherhood. He finished his translation of Dante's Vita Nuova in October 1848. He exhibited his first major oil painting, The Girlhood of Mary Virgin (Tate Gallery N04872), at the Free Exhibition in March 1849. In September and October of that year he visited Paris and Flanders with Holman Hunt, and was greatly impressed by mediaeval and Renaissance art. He probably met his future wife and frequent model Elizabeth Siddall late in 1849; they married in 1860. He was largely responsible for the Pre-Raphaelite magazine The Germ, published in 1850. In April 1850 he exhibited Ecce Ancilla Domini! (Tate Gallery N01210) at the National Institution, but rarely showed in public thereafter following the picture's negative reception.
From 1854 he was friendly with the critic John Ruskin, who was instrumental in bringing the Pre-Raphaelites to public attention, and in 1855-6 with the poet Robert Browning. In 1855 he went to Paris to see the Exposition Universelle. In 1856 he met Edward Coley Burne-Jones and William Morris; he was a contributor to Morris's Oxford and Cambridge Magazine. Five of his illustrations were included in Moxon's edition of Tennyson's Poems (published 1857). He showed eight works in the private Pre-Raphaelite exhibition, held at Russell Place in July 1857. Also that year he worked on the Oxford Union murals, during which time he met Jane Burden. Jane married William Morris but she and Rossetti had an intimate relationship which spanned decades, and she posed for some of Rossetti's best-known paintings (see Proserpine, 1874, Tate Gallery N05064). In 1858 Rossetti founded the Hogarth Club, an exhibiting and social club, with Madox Brown and others. Around this time he met Fanny Cornforth, who became his primary model and mistress for the next decade. Rossetti's translation of The Early Italian Poets was published in 1861.
In 1862 Elizabeth Siddal died of an overdose of laudanum. With this sad change in circumstance, Rossetti's painting style also took a new direction. Beata Beatrix (begun 1864), a kind of Dantesque memorial to Siddal, represented a new genre of single iconic female figures, often wearing exotic dress and placed in richly decorated interiors, which became prominent in his oeuvre. New models played an important role in his paintings and life. In the mid-1860s, Fanny Cornforth, yet another red-haired stunner, became both his model and mistress, and later in the decade he developed a similar lover-muse-model relationship with William Morris's wife Jane. Her face was the inspiration for many of his most important paintings of the 1870s.
The 1880s brought a return to poetry, with Rossetti publishing Poems and Ballads and Sonnets in 1881. The last years of his life were clouded by ill health, exacerbated by the use of chloral. Hoping to recuperate in the seaside town of Birchington-on-Sea, Kent, he died there on Easter Day, 1882.
Read More