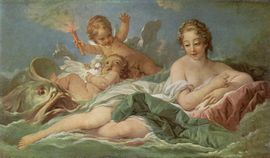 Fran?ois Boucher was a prolific painter in all genres as well as a designer for the theatre, and for tapestries, book illustrations and porcelain figures. His first commission for the king was in 1735. The king's mistress, Madame de Pompadour, was Boucher's chief patron from 1750 until her death in 1764.
Boucher was born in Paris on Sept. 29, 1703, the son of Nicolas Boucher, a decorator who specialized in embroidery design. Recognizing his son's artistic potential, the father placed young Boucher in the studio of Fran?ois Lemoyne, a decorator-painter who worked in the manner of Giovanni Battista Tiepolo. Though Boucher remained in Lemoyne's studio only a short time, he probably derived his love of delicately voluptuous forms and his brilliant color palette from the older master's penchant for mimicking the Venetian decorative painters.
Boucher next joined the workshop of the engraver Jean Fran?ois Cars, where he learned the fundamentals of this art and also provided many illustrations for the engravers in the workshop. Among the most notable was a series of drawings for Daniel's Histoire de France, engraved by Baquoy. Later, Boucher was to illustrate the Molière comedies, which were engraved by his boyhood friend Laurent Cars.
The engraver Jean de Julienne entrusted Boucher with the engraving of many of Antoine Watteau's drawings for the important Recueil Julienne. Boucher, who never knew Watteau personally, came to know his style intimately; the indelible impression it made upon him both stylistically and iconographically is evident in Boucher's painting.
In 1723 Boucher won first prize in the Academy competition, which normally would have meant going to Rome to study as a pensionnaire du roi. However, since he did not enjoy the favor of the Duc d'Antin, Superintendent of the King's Buildings, Boucher was denied the trip. By 1725 he had saved enough money to go to Rome with the painter Carle Vanloo. Boucher's sojourn in Italy seems to have affected his style very little, for the great classical schools of Italian painting were incompatible with his temperament. Upon his return to Paris in 1731, he was immediately swept up in the world of opera and high fashion, a world with which he was in complete harmony. And it was his destiny to provide it with an appropriate pictorial expression.
In 1733 Boucher married Marie Jeanne Buzeau, who frequently modeled for his paintings. Two girls and a boy were born of the marriage. Juste, the son, died at a young age; both daughters, Elizabeth Victoire and Marie Emilie, married pupils of Boucher: the painters Jean Baptiste Deshays and Pierre Antoine Boudouin, both of whom predeceased their father-in-law.
Boucher was admitted as a full member to the French Academy in 1734 with the diploma piece Rinaldo and Armida. The painting already reflected the major sources of his style, namely, Peter Paul Rubens, Watteau, and Tiepolo and other Venetian decorative painters.
Read More