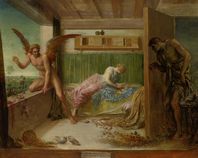 George Frederick Watts was a popular English Victorian painter and sculptor associated with the Symbolist Movement.
Watts became famous in his lifetime for his allegorical works, such as Hope and Love and Life. These paintings were intended to form part of an epic symbolic cycle called the "House of Life", in which the emotions and aspirations of life would all be represented in a universal symbolic language.
George Frederick Watts was born in London, the son of a piano maker. Initially, he wanted to become a sculptor, and at the age of 10 was apprenticed to William Behnes. However, in 1835, at the age of 18, he went to the RA Schools, where he remained for only a short period, and thereafter was mainly self-taught. After he first exhibited The Wounded Heron at the Royal Academy, painting became his main preoccupation. When his picture Caractacus won a £300 prize, he used the money to finance a trip to Italy, where he stayed with friends in Florence. He did not return to England until 1847, when his painting Alfred won the first prize of £500 in a House of Lords competition.
In 1850 Watts visited the home of Valentine Prinsep's parents in Holland park, supposedly for a three-day visit, but instead he stayed for thirty years. The Prinseps seem to have borne the situation cheerfully, and it no doubt gave them a certain cachet in the Bohemian circles in which they moved, which included such writers and painters as Thackeray, Dickens, Rossetti and Burne-Jones. Fortunately, Watts was a man of frugal habits. Although he had been depressed and unhappy when he had moved in with the Prinseps, Watts blossomed in this strange household, where notable writers and painters were treated with reverence. As a portrait artist, his gallery of eminent Victorians is unsurpassed: included among his sitters were the poets Tennyson, Swinburne and Browning, the artists Millais, Lord Leighton, Walter Crane and Burne-Jones; others were Sir Richard Burton, John Stuart Mill and Garibaldi, to mention only a few. He finally left the Prinseps' home in 1875 and moved to the Isle of Wight. In 1864 Watts married the actress Ellen Terry, who was only 16, although the marriage was short-lived, and he remarried in 1886 when he moved to Limnerslease, near Guildford. His new wife was Mary Fraser-Tytler, thirty-two year his junior. She was of Scottish descent, growing up in a castle on the shores of Loch Ness, and was an artist in her own right.
Watts was a modest, hard-working artist who twice refused a baronetcy and other honours, including an offer to become president of the Royal Academy, although he did accept the Order of Merit. His work as a sculptor exists in the Cecil Rhodes Memorial, Cape Town. His chief work as a sculptor is the heroic figure of a man on horseback known as Physical Energy, casts of which are on the Cecil Rhodes estate and in Kensington Gardens, London.
The critic G.K. Chesterton said of Watts: ".. more than any other modern man, and much more than politicians who thundered on platforms or financiers who captured continents, [Watts] has sought in the midst of his quiet and hidden life to mirror his age... In the whole range of Watts' symbolic art, there is scarcely a single example of the ordinary and arbitrary current symbol.... A primeval vagueness and archaism hangs over the all the canvases and cartoons, like frescoes from some prehistoric temple. There is nothing there but the eternal things, day and fire and the sea, and motherhood and the dead."
Another contemporary admirer, Hugh MacMillan, wrote that Watts "surrounds his ideal forms with a misty or cloudy atmosphere for the purpose of showing that they are visionary or ideal.... His colours, like the colour of the veils of the ancient tabernacle, like the hues of the jewelled walls of the New Jerusalem, are invested with a parabolic significance.... To the commonest hues he gives a tone beyond their ordinary power... Watts is essentially the seer. He thinks in pictures that come before the inward eye spontaneously and assume a definite form almost without any effort of consciousness."
Watts' declared aims were clear: to paint pictures that appealed 'to the intellect and refined emotions rather than the senses':
"I paint ideas, not things. I paint primarily because I have something to say, and since the gift of eloquent language has been denied to me, I use painting; my intention is not so much to paint pictures which shall please the eye, as to suggest great thoughts which shall speak to the imagination and to the heart and arouse all that is best and noblest in humanity."
Since the revival of interest in Victorian painting, Watts may be regaining the recognition and respect he enjoyed in the 19th century. However, in terms of public recognition he is not as well-known as contemporaries like Dante Gabriel Rossetti and Edward Burne-Jones. Exhibitions such as the Tate Gallery's 'Symbolism in Britain' have helped renew interest in his work.
Read More