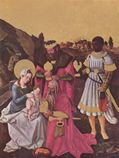 Hans Baldung, who was called Grien, was one of the leading German painters of the early 16th century. He is known for his portraits and secular cabinet pictures as well as for his altarpieces. one of the most outstanding figures in northern Renaissance art. He served as an assistant to Albrecht Dürer, whose influence is apparent in his early works, although the demonic energy of his later style is closer to that of Matthias Grünewald.
Baldung was born into a successful family of doctors and lawyers that immigrated to Strasbourg from Swabia in the 1490s. He probably received his early artistic training in Strasbourg before entering Albrecht Dürer's workshop in Nürnberg about 1503. The "Grien" element that is sometimes seen in his name was apparently an early nickname. After moving to Halle in 1507, he received commissions to produce the altarpieces Epiphany, or Adoration of the Magi, and St. Sebastian (1507), which were later displayed in the Collegiate Church there.
Baldung's paintings are equaled in importance by his extensive body of drawings, engravings, woodcuts, and designs for tapestries and stained glass. He is noted for his representations of the Virgin Mary, in which he combined landscapes, figures, light, and colour with an almost magical serenity. His portrayals of age, on the other hand, have a sinister character and a mannered virtuosity, as can be seen in his painting Three Ages of Woman and Death (c. 1510). His best-known painted work is the High Altar (1516) of the cathedral at Freiburg im Breisgau, for which he also designed the stained-glass choir windows. The altarpiece consists of 11 large-scale paintings, including the Coronation of the Virgin in the centre. The dance-of-death (Totentanz) and the death-and-the-maiden themes occur frequently in his graphic works. An early supporter of theReformation, he executed a woodcut in which Martin Luther is protected by the Holy Spirit in the form of a dove. In addition to his religious representations, Baldung's work also expressed his fascination with witchcraft, as can be seen in his woodcut Witches' Sabbath (1510) and in a series of drawings and prints he made on this theme between 1510 and 1544.
Read More