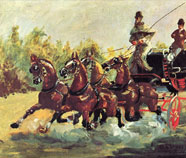 Henri De Toulouse-Lautrec was a famous French painter during the late 1800's. During this time, the culture and lifestyle of the people were decadent. As a result, most Henri De Toulouse-Lautrec paintings reflected the mood of this era, and they made him one of the most well known painters during the Post-Impressionist period.
Henri De Toulouse-Lautrec was born in the Mid-Pyrenees region of France, and was known to belong to an aristocratic family. His parents separated when he was eight, after the death of his younger brother. He lived with his mother in Paris, and this was where he started drawing his first sketches. From his early attempts at drawing, his family realized that he was talented in painting and drawing. They asked his father's friend, Rene Princeteau, to give him lessons.
From an early age, Henri developed various congenital diseases. Many historians attributed his health problems to the fact that his parents were first cousins. When Henri was 13 years old, he fractured his right thigh. Due to a genetic condition, his thighbone never healed properly. He acquired Rickets, which aggravated the situation. His legs stopped growing. As an adult, Henri was much shorter than the average adult – he had an adult upper body and child-like legs. Since Henri was unable to perform many regular physical activities, he began to entertain himself through art. The rest, as the say, is history.
Many Henri De Toulouse-Lautrec paintings mostly depict the 19th century Bohemian lifestyle that was the rage in Paris. He was especially immersed in Montmartre – an area in Paris that richly depicted this lifestyle. Many writers, philosophers and fellow artists lived in this area. Henri continued to study art under many instructors such as acclaimed portrait painters Leon Bonnat and Emile Bernard. It was during this time when Henri met a prostitute for the first time, and he painted her. Henri continued to work on different portraits, gradually improving his craft.
After many years of working on his paintings, the Moulin Rouge commissioned Henri to work on posters that would be displayed in the theater. The feel and vibrancy of Henri De Toulouse-Lautrec paintings were a perfect fit for Moulin Rouge. His iconic pieces were found in the Moulin Rouge halls.
Henri De Toulouse-Lautrec is well known for his ability to capture the color and vigor of the Parisian night life. He loved to capture individuals while they work and go on about their lives. Whether painting a crowd or a portrait of a single individual, Henri's paintings were able to show the character of these individuals – passionately depicted by his skillful brushstrokes.
Read More