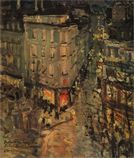 Konstantin Korovin was born on December 5, 1861 in Moscow. He was the second son in the family of a merchant. He studied painting with his brother Sergei at the Moscow School of Painting, where his teachers were Vasili Perov and Alexei Savrasov. In 1881-82 he studied at the Imperial Academy of Arts in St. Petersburg. Later he returned to Moscow and became a student of Vasili Polenov.
Korovin went to Paris in 1885, and there he was stunned by the works of impressionists. At that time he entered the artists circle in Abramtsevo, Russia, and worked for Savva Mamontov's Opera. He designed stage sets for "Aida" by Giuseppe Verdi, and "Carmen" by Georges Bizet. With Mamontov he traveled to France, Italy and Spain, where he continued painting in the style of impressionism. In 1890s he joined the "Mir Iskusstva" (World of Art) group, where he met Sergei Diaghilev, Valentin Serov, Alexandre Benois, Ilya Repin and other important cultural figures of that time.
Korovin was designated head artistic designer of the Russian pavilions at the Paris World Fair in 1900. He received the Gold Medal at the World Fair and was awarded the Legion of Honour by the government of France. He traveled and painted in Europe, mostly in Paris until WWI. During the war he worked as a camouflage designer for the Russian Army. He continued work as theatrical designer for the Mariinsky Theatre in St. Petersburg. He created the stage design for "Nutcracker" and "Swan Lake" by Pyotr Ilyich Tchaikovsky, "Die Walkure" by Richard Wagner.
Korovin finally left Russia for Paris in 1923. His valuable art collection was stolen, and he had to work as theater designer in Europe, America and Australia. His collaboration with Sergei Diaghilev and other theatrical productions continued. Among his many works is the remarcable innovative stage set for "The Golden Cockerel" by Nikolai Rimsky-Korsakov at the Turin Opera. His portraits of actors Feodor Chaliapin Sr. and T. Lubatovich and of the art collector Ivan Morosov are among the best in the genre.
Korovin was a colorist with a rare gift for harmonization. His works represent a merger of the classic art tradition with impressionism and art-nouveau. He died in Paris on September 11, 1939, and was laid to rest at the Russian cemetery in Paris.
Read More