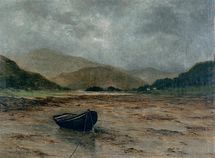 Maxime Maufra was a painter and printmaker loosely associated with the Pont-Aven school and best known for his marine landscapes.
Born in Nantes in 1861, Maxime Maufra started to paint in oils in the fresh air with the Leduc Brothers. Alfred, a painter of historical scenes, and Charles, who was known for his seascapes. In 1881 his father, through his understanding of business, sent him to Liverpool to learn English. A short stay in Paris to discover the contemporary vogue was a revelation for him. He returned to France in 1884 having visited Wales and Scotland. In London he also discovered Turner which had a remarkable effect on him and his work.
He lived in Nantes for six years where he was included in an important contemporary exhibition. He had three oils, one of which sold for 300 francs, and for the first time two works accepted by the Salon des Artistes Fran?ais, of which one was purchased by the State (Musée de Cholet). At this stage his work was being compared with Jongkind and Corot.
In 1890 he devoted himself solely to painting. He travelled with his friend Delaunay and met Gauguin, Seraisier and Meyer de Haan at Pont Aven. It was here that his use of colour changed dramatically.
He settled at Poulda close to Filiger and focussed on the coast of Doelanto Quiberon. The early 90's were spent working in and around this area.
Later, in the 90's Maufra moved to Montmartre in the house that became well known as 'Bateau-Lavoir' until 1914. Artists, poets and politicians used to meet in his studio each Saturday with many friends of his youth. His friendship with Gauguin continued and they used to meet in Gauguin's studio close to Montmartre where he lived between his two trips to Tahiti.
In 1894 Maufra painted under contract with Durand-Rael, in 1895 he married in London, Celine le Floch, and in 1896 Durand-Rael, to mark his success inFrance, organised a one man show in New York.
In 1903 Maufra returned toBrittanyestablished a base in Kerhostin, near Quiberon, where he was to play a key role in establishing a Union regional branch inBrittanywith a section Beaux Arts.
In 1908 he was publicly recognised as a painter and engraver of special note in the tradition of Landscape Painting.
1916 saw him nominated Peintre de Departement de la Marine.
Maxime Maufra died peacefully in 1918 in Poricé looking out over the waters of du Loing which he had come to paint for one last time.
Read More