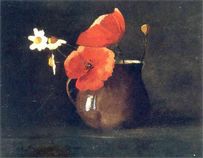 Odilon Redon (French, 1840–1916) was a painter and printmaker associated with the Symbolist movement and best known for his dream-like charcoal drawings, lithographs, and pastel drawings.
Redon was born in Bordeaux, Aquitaine, France. He started drawing as a young child, and at the age of 10 he was awarded a drawing prize at school. At age 15, he began formal study in drawing and sculpture. Rodolphe Bresdin instructed him in etching and lithography.
At the end of the Franco-Prussian War, he moved to Paris, working almost exclusively in charcoal and lithography. Until 1878 his work didn't gain any recognition. With "Guardian Spirit of the Waters", it finally happened and he published his first album of lithographs, titled "Dans le Rêve", in 1879.
In the 1890s, he began to use pastel and oils, which dominated his works for the rest of his life. In 1899, he exhibited with the Nabis at Durand-Ruel's. In 1903 he was awarded the Legion of Honor. His popularity increased when a catalogue of etchings and lithographs was published by André Mellerio in 1913. That same year he was given the largest single representation at the New York Armory Show.
The 'mystery' and the evocation of the Redon's work represent an exploration of his internal feelings and psyche. He himself wanted to "place the visible at the service of the invisible". Thus, although his work seems filled with strange being and grotesque dichotomies, his aim was to represent pictorially the ghosts of his own mind, the ghosts of the fallen, invisible world. There is an evident link to Goya in Redon's imagery of winged demons and menacing shapes, and one of his series was the "Homage to Goya" (1885).
The most telling source of Redon's inspiration and the forces behind his works can be found in his journal A Soi-même (To Myself). His process was explained best by himself when he said: "I have often, as an exercise and as sustenance, painted before an object down to the smallest accidents of its visual appearance; but the day left me sad and with an insatiate thirst. The next day I let the other source run, that of imagination, through the recollection of the forms and I was then reassured and appeased."
Read More