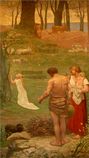 Pierre Puvis de Chavannes (1824-1898) was one of the most striking artists of the second half of the 19th century in Europe, known equally in the United States, due to his activities in the fields of composition, forms and monumental painting.
He was born Pierre-Cécile Puvis de Chavannes in Amiens, Somme, France, the son of a mining engineer, descendant of an old noble family of Burgundy. Pierre Puvis was educated at the Amiens College and at the Lycée Henri IV in Paris, and was intended to follow his father's profession when a serious illness interrupted his studies. A journey to Italy opened his mind to fresh ideas, and on his return to Paris in 1844 he announced his intention of becoming a painter, and went to study first under Eugène Delacroix, Henri Scheffer, and then under Thomas Couture. It was not until a number of years later, when the government of France acquired one of his works, that he gained wide recognition.
In Montmartre, he had an affair with one of his models, Suzanne Valadon, who would become one of the leading artists of the day as well as the mother, teacher, and mentor of Maurice Utrillo.
From the 1860s on, Puvis is best remembered for the huge canvases he painted for the walls of city halls and other public buildings throughout France. He developed a style characterized by simplified forms, rhythmic line, and pale, flat, frescolike colouring for allegorical pieces and idealizations of themes from antiquity. In 1861 he began an important series of paintings that became part of the decorative scheme (completed 1882) for the museum at Amiens. Among his other major commissions is a series of panels in the Panthéon, Paris, illustrating the life of St. Geneviève. Begun in 1876, the work was completed by his students after his death. Other important Paris murals are in the Sorbonne (1887–89) and the H?tel de Ville (completed in 1893). He also painted the staircase of the public library at Boston (1894–98).
Read More