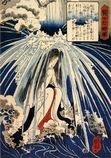 Utagawa Kuniyoshi (1798-1861), was one of the last great masters of the Japanese woodblock print.
He was born in 1798, the son of a silk-dyer, originally named Yoshizo. He apparently assisted his father by designing for the business, and quite naturally found his way to the art world.
He originally studied with the artist Kuninao, and some of his work came to the attention of one of the great masters of the Japanese woodblock print, Toyokuni. He was officially admitted to Toyokuni's studio in 1811, and became one of his chief pupils. He remained an apprentice until 1814, when he was given the name Kuniyoshi and set out as an independent artist.
Like many others of the Utagawa school, he started out with theatre prints, but his initial lack of success led to several hard years, at one point making a meagre living repairing and selling usedtatami (floormats).
A chance encounter with his prosperous fellow pupil Kunisada, to whom he felt (with some justice) that he was superior in artistic talent, led him to redouble his efforts (but did not create any lingering ill-feeling between the two, who later collaborated on a number of series).
He then produce a number of heroic triptychs which were well thought of, and in 1827 he started the series which was to secure his place, the Suikoden, or "Hundred and Eight Chinese Heroes". He went on to become quite successful in a number of fields, including some excellent landscapes in the early 1830's. In the 1840's he continued to produce many prints, among them many triptychs of bijinand heroes.
He was also known for his drawings of cats, his favourite animal (according to a drawing by his pupil Kyosai, his studio was full of cats), of which he did wonderfully sympathetic drawings, which he included in corners of his prints on the slightest excuse.
Although arrested in the morals-based crackdown of 1842 on the print and theatre world, he escaped with a fine. In the 1850's the quality of his work started to decline, and after the great earthquake of 1855, in which he was given up for dead by his family and studio when he was late coming hime, he suffered extensively from illness and depression, and produced little more. He died in Edo, in 1861.
Although he had quite a few pupils, his chief pupil was Yoshitoshi, the last of the great Japanese woodblock masters.
Read More