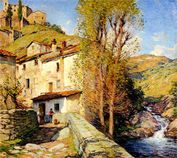 Massachusetts native Willard L. Metcalf, founding member of Ten American Painters, is best known for his Impressionist landscapes. During his lifetime he was recognized as the artistic equivalent to the poet Robert Frost as an interpreter of the New England landscape.
Beginning in 1875, Metcalf studied at the Massachusetts Normal Art School, the Lowell Institute, the School of the Museum of Fine Arts in Boston, and the Académie Julian in Paris. While in Europe in the 1880s, he was part of a cosmopolitan community of artists and writers which included John Twachtman and Theodore Robinson, who were central to the emergence of American Impressionism. From his travels, Metcalf developed an appreciation for plein-air painting, natural light, and high-keyed color that later informed his New England landscapes. In 1897, Metcalf and nine others formed Ten American Painters, a group devoted mostly to Impressionism.
Metcalf found his primary source of happiness outdoors; he was an avid naturalist and fisherman who combined those pleasures with painting in all seasons. He became known as a painter of seasonal landscapes, and was especially praised for his direct, honest approach to the New England landscape and for his sensitivity to the changing faces of nature, foliage color, and light quality. Winter was a favorite season; his snow-filled canvases were often compared to the works of his friend Twachtman, another winter specialist.
According to his biographer, Elizabeth de Veer, Metcalf "could not conceive of a universe [that was] sublime or tawdry, awesome or merely ordinary." Rather, his universe was "an expression of agreeable and very beautiful differences within a safe framework of predictability." In a letter to his daughter Rosalind, penned shortly before his death in 1925, Metcalf wrote that his painting was:
An endless effort of putting paint on a canvas with a miserable little brush—and endeavoring to make it express thoughts and dreams—that will perhaps reach out and say something to someone, something that will make wandering souls—stop—and look—perhaps awaken something in them that may make them think of beautiful things—and so perhaps happiness. —Oh! my dear—it's a long journey this painting game—and such hard and continued effort demanded, if one has an ideal, such as I have, and the desire for perfection.
Metcalf's vision of "summerland"—a world of perpetual sunshine and perfect repose—was not just another pretty concept; instead, it epitomized his spiritualist concept of the afterlife. Despite his own troubled adulthood (which included two divorces and a history of alcoholic binges), Metcalf held to this ideal, which guided his career as America's foremost Impressionist landscape painter.
November Mosaic embodies this idealism. Dating to the prime of Metcalf's career, when he produced some of his most beautiful autumn paintings, the canvas was executed in fall 1922, when he was staying in the little stone village in Chester, Vermont. The nearby Little Williams River often plays an important role in his compositions; here it is seen against the backdrop of the New England hills, covered in early autumn tones and dotted with houses. Metcalf selected a slow, deliberate painting speed which emphasized patchy brushstrokes of variegated colors, hence the apt reference in the title to a "mosaic." Using classic compositional devices, such as crossing diagonals and crisp contrasts of texture and value, Metcalf quite literally and painstakingly constructed a scene of consummate serenity and solitude, a mood that one of his reviewers described at the time as "lyric in a positive, masculine style."
Read More