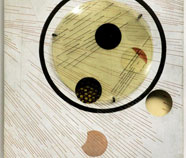 A work of art that has movement or parts that are set in motion. The movement may be real or imagined. Movement may be mechanically powered (for example, by electricity, or air or water motion), or produced by the viewer moving past a work, or the work given the illusion of movement, such as op art, which appears to flicker. Kinetic art sometimes merges with other types of avant-garde art, including performance art, computer-generated art, mixed media, and Installation art. Leading kinetic artists include Alexander Calder, Bridget Riley, and Nam June Paik.
In the 1920s Eastern European artists Naum Gabo and Antoine Pevsner began to experiment with sculpture that looked like machines. They named their work kinetic art in the 'Realist Manifesto', a manifesto of constructivism issued in Moscow.
Gabo"s work was made up of electrically driven wire constructions that illustrate the prevailing fascination for technology and industry among artists of the early 20th century. Other artists, including Marcel Duchamp in France and László Moholy-Nagy in Germany, were making similar work.
In the 1930s Alexander Calder began making abstract moving sculptures called mobiles, and he is often described as the outstanding pioneer of kinetic art. Some of his mobiles were powered by motors, but he is best known for the type that are so light in construction that they are moved by the slightest breeze.
Read More