Chinese painting artist: Pan Liang
Pan Liang's Biography&Awards:
Pan Liang, was born in 1967 in Guilin, Guangxi province. He graduated from the Chinese Painting department of Guangxi Guilin Education Institute and had his further education in China Art Research Institute and Beijing Academy od Fine Arts.
Now he is a member of Guangxi Artists Association, Chinese Printmakers Association and Guangxi Art Committee. He also is the vice president of Western China Calligraphy and Painting Institute, the honorary vice president of Hongkong International Painting Institute.
His artworks with distinct style were based on four elementals: the traditional spitir, modern compositions, unique language and fashion colors. More than 40 different media have reported his presentations, such as "The Art Newspaper", "Art China", "Art World", "Chinese Painters", Guangxi TV, CCTV etc.
Guangxi Art Publisher had published "Panliang Landscape Paintings Collection", "Panliang Landscape Paintings Selection", "Panliang Chinese Ink Landscape Painting Research" etc. Recent years, he was recommended as "the most valuable Chinese Painters for collection in 21Century" by 25 art media and organizations such as "Collection Magazine", "World Chinese Elitists Magazine" etc.
1967年生于广西桂林。毕业于广西桂林教育学院美术系中国画专业,深造于中国艺术研究院、北京美术学院。
现为广西省美协会员、中国版画家协会会员、西部书画艺术院副院长、香港国际画院名誉副院长、广西美协艺委会委员。
其作品以传统精神、现代构成、独特语言、时尚色彩、四大要素形成当代典型个人艺术风格。《美术报》、《艺术中国》、《中国画清赏》、《美术界》、《中国艺典》、《中国画家》、《十方艺术》、《墨痕》、广西卫视、中央电视台等40多家媒体为其做专题介绍。
广西美术出版社出版《潘亮山水画集》、《潘亮山水艺术作品精选》、《潘亮水墨山水画研究》专著。近年来,被亚太艺术品投资战略研究中心、《世界华人精英杂志社》、《收藏家杂志社》、中国艺术传媒联盟等二十五家艺术传媒机构推荐为"21世纪最具收藏价值的中国画家"。
Pan Liang's Chinese painting: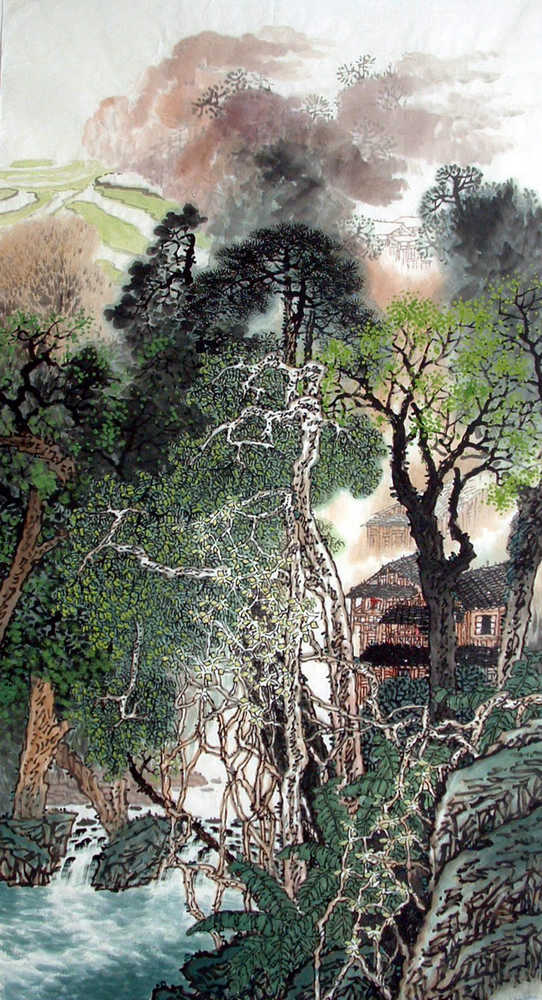 View more Chinese paintings by Pan Liang
Customize Pan Liang's Chinese Painting:
Do you want to ask our Artist/Painters Pan Liang to paint one for you according to your sepcial needs? Such as sizes, prices. Or you can send the sample pictures to us as reference. Please contact us.