Chinese painting artist: Tan Weizhong
Tan Weizhong's Biography&Awards:
Tan Weizhong is a famous colored ink landscape painter. He was bron in Liuzhou, Guangxi Province. Now he is the Guangxi Branch of Chinese Artists Association member, artist, Ming Han Dynasty, vice president, Philip Gallery Distinguished painter (Malaysia) attended the Fine Arts Department of Shanghai Normal University. He learn Western oil painting, and then study Chinese painting. He was affected by Hao Guanzhong, Yang Yanwen, and has been working to find a fusion of Chinese and Western cultures complementary point. His compositions are full and dripping ink and color, full of interest in life, there is a distinct and unique personal style, highly reflect the sense of much of world attention. Color painting, watercolor, printmaking, pen drawing at many national and provincial and municipal Art Exhibition and award-winning, published works so far in all levels of newspapers has been more than a thousand pieces. His works have been auctioned in Shanghai, Guangzhou, Nanning, Guilin achieved very good results, and exhibited in galleries in Singapore, Malaysia, Taiwan and other places are acquiring.
In 1992 watercolor "Spring Rain" was selected Guangxi Art Exhibition Second Prize
In 1993 Painting "lyrical landscapes set published by Guangxi Fine Arts Publishing House
In 1994 Painting "drain" was selected for the Guangxi Art Exhibition
In 1995 Painting "Open Space" was selected for the Guangxi Art Exhibition
In 1996 Guangxi Television Liuzhou television and the Tan Weizhong pen drawing art "in the title, repeatedly reported by their artistic activities.
In 1997 co-organized the exhibition of travel around the world with others in the Liu and served as the deputy editor of the coffee-table book
In 1998 oolor painting "Autumn Melody" was selected World Chinese Artists Exhibition (UK)
In 1999 individual colored ink painting exhibition held in Guilin
In 2001 established gallery exhibition in Malaysia and Philippines
谭微中,著名彩墨风景画家。广西柳州人。现在中国美术协会广西分会会员,美术师,鸣汉画会副会长,菲力画廊特聘画师(马来西亚)曾就读上海师范大学美术系,先学习西洋画,后转中国画。深受昊冠中,杨延文等绘画大师的影响,一直努力在寻中西文化互补的融合点。其作品构图饱满,彩墨淋漓,充满生活情趣,有鲜明独特的个人风格,极具体现感,倍受世人瞩目。其彩墨画,水彩画,版画,钢笔画多次参加全国及省市美展并获奖,至今在各级报刊发表作品已逾千幅。 他的作品多次在上海,广州,南宁,桂林等地拍卖都取得很好的业绩,并在新加坡,马来西亚,台湾等地画廊展出均被购藏。
1992年 水彩画"春雨"入选广西美展获二等奖
1993年 著作"抒情风景画集"由广西美术出版社出版
1994年 版画"汲"入选广西美展
1995年 版画"憩"入选广西美展
1996年 广西电视台与柳州电视台及"谭微中钢笔画艺术"为题,多次报道其艺 术活动。
1997年 在柳与他人合办"周游世界"画展,并担任该大型画册副主
1998年 彩墨画"秋韵"入选世界华人艺术家作品大展(英国)
1999年 在桂林举办个人彩墨画展
2001年 在马来西亚菲立画廊办画展
Tan Weizhong's Chinese painting: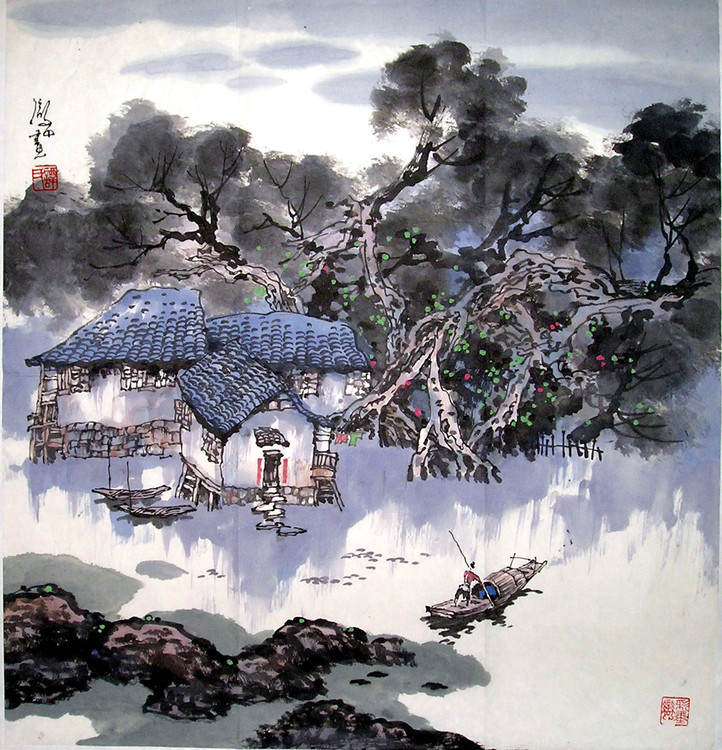 View more Chinese paintings by Tan Weizhong
Customize Tan Weizhong's Chinese Painting:
Do you want to ask our Artist/Painters Tan Weizhong to paint one for you according to your sepcial needs? Such as sizes, prices. Or you can send the sample pictures to us as reference. Please contact us.