Chinese Painting Artists: Qin Xia
Qin Xia's Biography&Awards:
Qin Xia, now is the member of Chinese Artists Association, first-grade painter of China Literary Federation Painting and Calligraphy Art Center, senior painter of Shandong Art Academy. She was born in Shandong in 1960. Apprenticed to Mr. Wang Xiao Gu to study flower& bird painting at an early age. After that she followed Gongbi Master Tian Shi Guang. She was admitted to Chinese brush painting Department, Shandong Academy of Fine Arts in 1983. After graduation, she taught at academy until now. Once she got advice or comment from her elder such as Tian Shi Guang, Huang Jun, Jin Hong Jun, Yu Zhi Zhen and so on. Her artistic features are very clear and distinctive. It is not only vigorous but also conform to the China traditional joyous feeling. Her works were collected by the Great Hall of the People, the Chinese theater, the Shandong Province museum, the former residence of Li Ku Chan, the Qufu City Museum and so on units.
Become famous by virtue of " Ru Meng Ling" in 1986,
Held personal painting exhibition in Shandong Art Gallery,
Won second prize in " Jin Ying Cup" painting and calligraphy exhibition which was held by China Women's Federation,
Her art book "Xia Zhi Mo Yu" was published in 1994,
On June 1996, her work "Jun Xin Wo Xin" won the silver medal of figures category in " the Korean International Art Exhibitions of 1996". In the same year, she was invited to attend the "China Youth Brush Painting Exhibition". Those Gongbi paintings that took the Li Qing Zhao's poetry as the theme, "Hai Tang Yi Jiu", "Wu Tong Xi Yu", "Shuang Xi Chun Hao", "Yue Man Xi Lou" won gold medal, and were collected by the President of Air France,
Her work "Jian Ku De Sui Yue" won second prize in the "Ji Nian Kang Zhan" Painting and Calligraphy Competition which held by Shandong province in1997,
Her work "Chun Zou Yi Chi Chun Shui" won gold medal of Gongbi flower&bird category again in Chinese Painter and Calligrapher group Exhibition,
Participated in "Qi Di Cup" the Fifth National Gongbi Painting Exhibition and won honorable mention,
Her biographical notes and works were recorded into " dictionary of contemporary Chinese artist celebrity ".
Her work often published in "Chinese Brush Painting Research", "the New Fine arts", "Chinese Fine arts Newspaper" and so on publications. "Book reservation" of Taiwan also had Mrs. Qin's special topic.
秦霞,现为中国美协会员、中国文联书画艺术中心一级画师,山东画院高级画师。1960年生于山东,自幼师承于王小古先生门下学习花鸟绘画,后师从工笔画大师田世光。1983年考入山东美院国画系,毕业后留校任教。曾得到田世光、黄均、金鸿均、俞致贞等老前辈的指点。作品艺术特点非常明显鲜明,既大气又符合中国传统的喜庆之色。其书画作品被人民大会堂、中国剧院、山东省博物馆、李苦蝉故居、曲阜市文物馆等单位收藏。
1986年以作品《如梦令》成名,
1989年在山东省美术馆举办个人书画展;
1992年在中国妇联举办的"金英杯"书画大展中荣获二等奖;
1994年出版《霞之墨语》画集;
1996年6月,作品《君心我心》在"韩国96国际美展"中获人物类银奖;同年应邀参加"中国青年国画展",以李清照词为题材的工笔作品《海棠依旧》、《梧桐细雨》、《双溪春好》、《月满西楼》获金奖,并被到访的法国航空公司让.格瑞耶总裁收藏;
1997年在山东省举办的"纪念抗战"书画大赛中其作品《艰苦的岁月》荣获二等奖;
1997年其《吹皱一池春水》在华人画家书法家联展中再次获工笔花鸟类金奖;
1999年参加"奇迪杯"全国第五届工笔画大展获优秀奖, 作品及简历被载入《当代中国美术家名人辞典》,作品常发表于《中国画研究》、《新美术》、《中国美术报》等报刊,台湾的《典藏》也曾有秦女士作品专题介绍。
Qin Xia's Chinese paintings: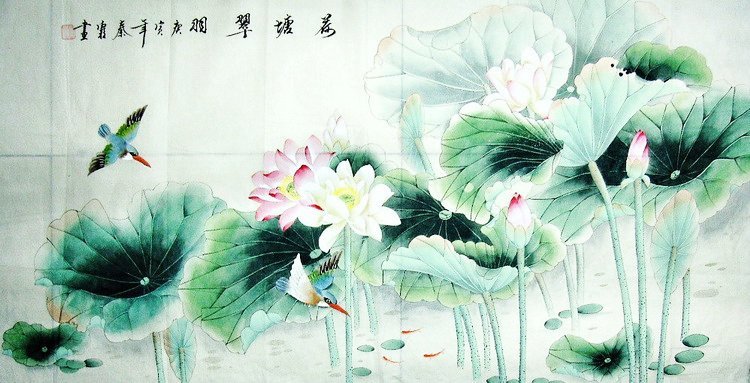 View more Chinese paintings by Qin Xia
Customize QinXia's Chinese Painting:
Do you want to ask our Artist/Painters QinXia to paint one for you according to your sepcial needs? Such as sizes, prices. Or you can send the sample pictures to us as reference. Please contact us.