Chinese painting artist: Huang Shanchuan
Huang Shanchuan's Biography & Awards:
Huang Shanchuan gentleman, native of Jiangsu. The Chinese Artist Association member, graduates from Beijing Art academy, excels at the enjoyable flower-and-bird painting, its flower-and-bird painting work writing technique is succinct, the style fresh meaningful, sparse distant has the poetic sentiment, has the very high artistic expressive force and the power, view its picture, if reads a flavor infinite snatch, or lets the human be completely relaxed.
Its work once entered the exhibition China Artist Association first, second nation flower-and-bird painting work big exhibition, the new century "the Chinese character and style country art exhibition" and so on many important award items, once on invitation participated in the Canadian international ink and wash painting big exhibition, many artistic media once opened the column to introduce its person of its skill.
And work "Quiet Blue print" 2004The year on January 8 by the Great Hall of the People collection, "Is soared to the clouds Chart" is selected the 5th session of contemporary painter-calligrapher work invitation exhibition, "Clear Summer Chart" attains commemorates Mao Zedong to study the preface to Comrade Lei Feng to publish the 40th anniversary nation calligraphy and painting big exhibition copper prize, "Ancient Snow Chart" wins the fourth Chinese calligraphy and painting famous expert big exhibition match silver award, "Modest Lofty character" attains "the prosperous times national customs" 2003 Chinese calligraphy and painting year exhibition nomination, "Double Clear" is selected the first session "the peony cup" the contemporary calligraphy and painting famous expert work big exhibition. And has the massive works publishes in national many kinds of publications and the coffee-table book. Many works by Singapore, Japanese, American, Hong Kong, Taiwan's Tibet collection.
黄山川先生,江苏人。中国美术家协会会员,毕业于北京艺术学院、,擅长写意花鸟画,其花鸟画作品笔法简洁、风格清新隽永,疏淡悠远而有诗意,具有很高的艺术表现力和感染力,观其画,如读一首韵味无穷的小令,或让人心旷神怡。
其作品曾经入展中国美术家协会第一、二届全国花鸟画作品大展、新世纪"中国风情国画展"等多项重要奖项,曾经应邀参加加拿大国际水墨画大展,不少艺术媒体曾经开辟专栏介绍其人其艺。
其中作品《幽兰图》2004年元月8日被人民大会堂收藏,《凌霄图》入选第5届当代书画家作品邀请展,《清夏图》获纪念毛泽东向雷锋同志学习题词发表四十周年全国书画大展铜奖,《古雪图》获第四届中国书画名家大展赛银奖,《虚心傲骨》获"盛世国风"2003中国书画年展提名,《双清》入选首届"牡丹杯"当代书画名家作品大展.并有大量作品在全国多种报刊及大型画册中发表.多幅作品被新加坡、日本、美国、香港、台湾的藏者收藏。然。
Huang Shanchuan's Chinese paintings: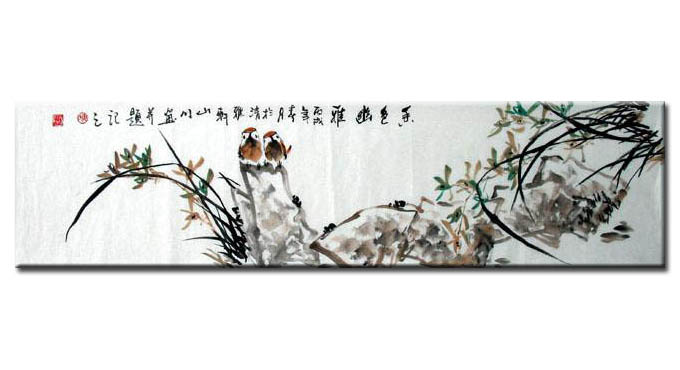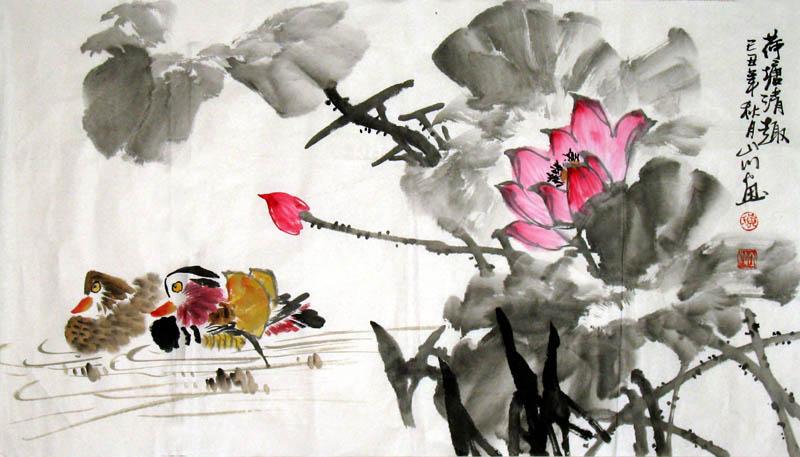 View more Chinese paintings by Huang Shanchuan
Customize Huang Shanchuan's Chinese Painting:
Do you want to ask our Artist/Painters Huang Shanchuan to paint one for you according to your sepcial needs? Such as sizes, prices. Or you can send the sample pictures to us as reference. Please contact us.