Chinese Painting Artist: Mu Bai
Mu Bai's Biography&Awards:
Mu Bai, alias Qin XIn Zai Zhu, born in Hangzhou city of Zhejiang province in1963. He's a professional painter, graduated from Fine Arts Department of Guangxi Normal University in1987. Now he's the member of Asia Youth Artists Exchange Centre.

He's skilled in flower&bird painting, figure painting and landscape painting. His works are succinct, exquisite, natural and vigorous, with skillful brushwork, vivid artistic conception and distinctive color. Flowers, plants and stones in painting are all beautiful and refined; figures, animals and insects are full of life. That shows his solid basic skill of calligraphy and the cultural implication. His works repeatedly won provincial and national prize, and collected by many art galleries.
慕白,职业画家,号琴心斋主,生于1963年,浙江杭州人。1987年毕业于广西师范大学艺术系。现为亚洲青年艺术家交流中心会员。

花鸟、人物、山水、无一不工。画作洗练高雅,舒展大气。用笔娴熟老辣、气韵生动;施色别具一格,浑然天成。所画花草树石等娇妍秀雅而不失清超脱俗;人物禽虫等生意盎然而不失绰约风姿。显示出其深厚的书法功底和文化蕴涵。作品多次获省内外大奖,并被多家美术馆收藏。
Mu Bai's Chinese painting: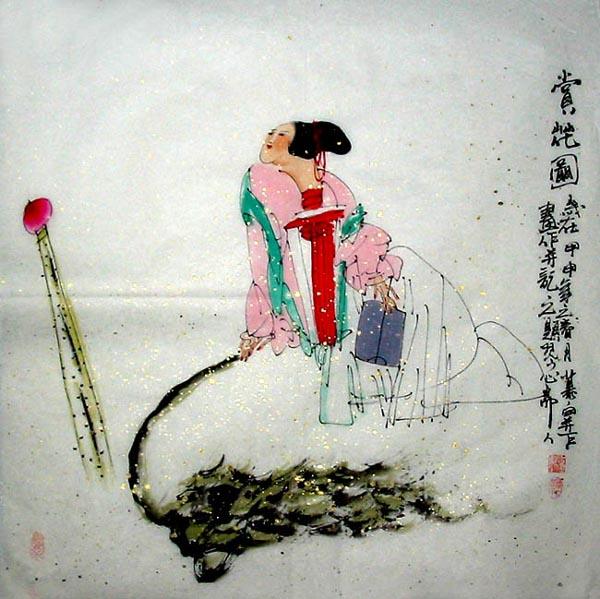 View more Chinese paintings by Mu Bai
Customize Mu Bai's Chinese Painting:
Do you want to ask our Artist/Painters Liu Mu Bai to paint one for you according to your sepcial needs? Such as sizes, prices. Or you can send the sample pictures to us as reference. Please contact us.