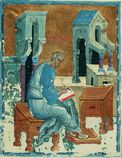 Andrei Rublev, a famous medieval painter of orthodox icons and frescos, is considered the pride and glory of Russian culture. The name of Rublev is connected not only to the flourishing period of Russian art, but also to the revival of Byzantine art after its ruin under the Ottoman rule.
Born in a period of monastic revival, Rublev grew up in the period of increased public trust and support for the Eastern Orthodox Church. Although little is known about his life, sufficient evidence is available to begin to understand his work and the religious convictions that inspired it.
As a monk in the Trinity-St. Sergius Monastery, Rublev was doubtlessly a follower of St. Sergius (1314-1392), who was the founder of the monastery and was in many ways considered the leader of the 14th century spiritual and political revival. Life in the Trinity-St. Sergius monastery emphasized "fraternity, calm, love (toward) God and spiritual self-improvement" (Andrey Rublev). In a time of great national division and strife, St. Sergius supported the unification of the quarreling Russian principalities and freedom from the foreign oppression inflicted by the Mongol Yoke.
Many of Rublev's surviving works were created in or near Moscow, and there is evidence to suggest that he received his training in this general area (although not exactly within the city) under the guidance of Prokhor of Gorodets. By 1405 he was collaborating with Theophanes the Greek, the foremost icon painter in Russia at the time, in the decoration of the Annunciation Cathedral in Moscow. This testifies to both his skill and his rising popularity as an icon painter.
Rublev is best known for his masterpiece The Old Testament Trinity. This icon exemplifies the simplicity and the skill of his style, as well as its ability to transcend pictorial constraints with spiritual and religious ideas. Renowned for its lyrical and rhythmic quality, the icon was an instant success and found many imitators. Perhaps Rublev contributed the most to icon painting, however, when he "broke away from the prevailing severity of form, color, and expression" that characterized the developing Russian style of icon painting, especially the work of Theophanes the Greek. Thus did he infuse his work, and that of icons to come, with the gentleness and harmony characteristic for his spiritual outlook.
Read More