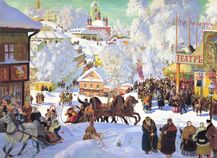 Boris Kustodiev has a place of honour among those artists of the early twentieth century. A talented genre-painter, master of psychological portraiture, book illustrator and stage-set artist, Kustodiev produced masterpieces in almost all the imitative arts. But his talent is most apparent in his poetic paintings on themes from the life of the people, in which he conveyed the inexhaustible strength and beauty of the Russian soul. He wrote, 'I do not know if I have been successful in expressing what I wanted to in my works: love of life, happiness and cheerfulness, love of things Russian—this was the only "subject" of my paintings ...'
Born in Astrakhan on March 7, 1878, Boris Mikhaylovich Kustodiev built a reputation as a talented artist and stage designer during his career. His first work in the theater was designing sets for Alexander Ostrovsky's play An Ardent Heart in 1911. The production was a success, and Kustodiev began getting many offers for work in the theater. The artist himself noted that his own life, where his family rented a small part of a rich merchant's house, was like something out of an Ostrovsky play. This no doubt contributed to his success in designing sets for Ostrovsky, and he collaborated with the Russian playwright on a number of his productions, including A Stroke of Luck, It's a Family Affair, Wolves and Sheep and The Storm.
While studying at a theological seminary between 1893 and 1896, Kustodiev took art lessons in his home town of Astrakhan from Pavel Vlasov, who had been a pupil of Vasily Perov – one of the founding members of the Peredvishniki, a group of Russian realist artists who resisted academic restrictions on art at the time. Kustodiev later studied in Ilya Repin's studio located at the Imperial Academy of Arts in St Petersburg while at the same time taking etching lessons with Vasiliy Mate and sculpture classes under Dmitry Stelletsky.
Ilya Repin invited Kustodiev to work with him on the canvas he had been commissioned to create commemorating the 100th anniversary of the State Council. This 400 cm x 877 cm artwork is now on display at the Russian Museum in St Petersburg. It was at this time Kustodiev painted individual portraits of people he felt had been influential in his life in some way. These included Vasiliy Mate, Ivan Bilibin, Stepan Razi, Maximilian Voloshin, Isaak Brodsky, Feodor Ivanovich Chaliapin, Pyotr Kapitsa and Nikolay Semyonov.
In 1905 Kustodiev started illustrating books, providing the illustrations for many Russian literary classics including Dead Souls, The Overcoat and The Carriage by Nikolai Gogol; and Leo Tolstoy's The Candle and How the Devil Stole the Peasant's Hunk of Bread. In 1909 he was invited to attend the Imperial Academy of Arts in St Petersburg, but ill health in the form of tuberculosis of the spine required medical treatment in Switzerland. In 1916, Kustodiev became a paraplegic, but reportedly remained joyful and this was reflected in his colorful and lively paintings, with The Merchant's Wife painted in 1918, becoming one of his famous works.
Boris Kustodiev continued to use his great talent for painting, engraving, illustrating and theater set designing right up until the tuberculosis he had suffered from for years finally ended his life on May 28, 1927 in Leningrad. His works have become an integral part of the cultural heritage of Russia – the country he loved so dearly.
Read More