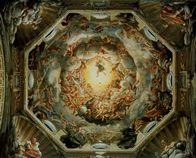 Antonio Allegri, called Correggio (from his native town near Parma), was the leading Emilian painter of the early 16th century and one of the greatest Italian artists of the Renaissance. A pioneer of illusionistic fresco decoration, he also painted many influential altarpieces and smaller scale religious paintings, as well as a small number of mythological scenes. He was a major influence on Parmigianino. Correggio is chiefly famous for the dome frescoes in S. Giovanni Evangelista and the Cathedral of Parma, and a series of major altarpieces.
Antonio Allegri Correggio was born in Correggio, around 1489, and named after his birthplace. His father was a small, well-to-do merchant who provided his son with the education and opportunity to become a great artist. While not much is known about his early life, it is believed that, sometime between 1503 and 1505, he was the apprentice to Francesco Bianchi Ferrara of Modena. While his career and training are poorly documented, some speculate that he studied the works of Andrea Mantegna in Mantua and Leonardo da Vinci.
After settling in Parma in 1518, he received his first large-scale commission to decorate the walls of the abbess's room in the convent of S. Paolo. These frescoes were known collectively as 'Diana, Returning from the Chase', and are noted for the extreme foreshortening of cherubs that adorn the walls. These works classified Antonio Allegri Correggio as one of the most inventive artists of the High Renaissance, whose creations were a great influence on the development of Baroque dome paintings.
Often called "The Master of Parma", Antonio never strayed far from the tiny, provincial town of Parma, Italy. Following the custom of the time, he Latinized his name and signed himself Antonius Laetus. In 1519, he married Girolama Francesca di Braghetis of Correggio, and the two lived a contented life as his reputation in the art world soared.
Known for his masterly handling of light and shade, he created works such as 'The Ascension of Christ'(1520-1524) for the church of San Giovanni of Evangelista and 'The Assumption of the Virgin' (1526-1530) for the Parma Cathedral. Upon his wife's death in 1529, the artist returned to his native town where he lived a simple and devout life.
His religious and mythological paintings expressed theatrical qualities with tender and sensual undertones, setting the precedent for Baroque artists at that time. Some examples include: 'The Abduction of Ganymede' (1531-1532), 'Zeus and Io' (1531-1532), and 'Leda and Swan' (1531-1532).
Antonio Allegri Correggio was a very private man; hence, his history remains quite elusive. He left behind no writings, had no pupils, and did not acquaint himself with his contemporaries. After his death in 1534, he was buried in the Franciscan convent. He left behind a son, Pomponio, who was the last Allegri descendant. His legacy of twenty years' worth of art inspired artists such as El Greco and Rubens who, by following his example, learned the way to breathe life into the classical scenes and figures.
Read More