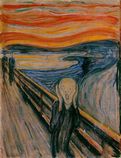 Edvard Munch was a Norwegian Symbolist painter, printmaker, and an important forerunner of Expressionistic art. His best-known painting, "The Scream" (1893), is one of the pieces in a series titled "The Frieze of Life", in which Munch explored the themes of life, love, fear, death, and melancholy. As with many of his works, he painted several versions of it. Similar paintings include Despair and Anxiety.
The "Frieze of Life" themes recur throughout Munch's work, in paintings such as "The Sick Child" (1886, portrait of his deceased sister Sophie), "Love and Pain" (1893-94) though more commonly known as "Vampire." Munch portrayed women either as frail, innocent sufferers, or as the cause of great longing, jealousy and despair.
Edvard Munch was born in ?dalsbruk/L?ten, Norway, and grew up in Kristiania (now Oslo). He lost his mother, to tuberculosis in 1868, and his older and favorite sister to the same disease in 1877 and father also died young, as well, in 1889. Munch had a brother, and two younger sisters. One of Munch's younger sisters was diagnosed with mental illness at an early age. Munch himself was also often ill. Of the five siblings only Andreas married, but he died a few months after the wedding. He would later say, "Sickness, insanity and death were the angels that surrounded my cradle and they have followed me throughout my life."
In 1879, Munch enrolled in a technical college to study engineering, but frequent illnesses interrupted his studies. In 1880, he left the college to become a painter. In 1881, he enrolled at the Royal School of Art and Design of Kristiania. His teachers were sculptor Julius Middelthun and naturalistic painter Christian Krohg.
While stylistically influenced by the postimpressionists, Munch's subject matter is symbolist in content, depicting a state of mind rather than an external reality. Munch maintained that the impressionist idiom did not suit his art. Interested in portraying not a random slice of reality, but situations brimming with emotional content and expressive energy, Munch carefully calculated his compositions to create a tense atmosphere.
Munch's means of expression evolved throughout his life. In the 1880s, his idiom was naturalistic, as seen in "Portrait of Hans J?ger", and impressionistic, as in "Rue Lafayette". In 1892, Munch formulated his characteristic, and original, Synthetic aesthetic, as seen in Melancholy, in which colour is the symbol-laden element. Painted in 1893, "The Scream" is his most famous work.
During the 1890s, Munch favored a shallow pictorial space, a minimal backdrop for his frontal figures. Since poses were chosen to produce the most convincing images of states of mind and psychological conditions "Ashes", the figures impart a monumental, static quality. Munch's figures appear to play roles on a theatre stage "Death in the Sick-Room", whose pantomime of fixed postures signifies various emotions.
In 1892, the Union of Berlin Artists invited Munch to exhibit at its November exhibition. His paintings evoked bitter controversy, and after one week the exhibition closed. One of his great supporters in Berlin was Walter Rathenau, later the German foreign minister, who greatly contributed to his success.
In the autumn of 1908, Munch's anxiety became acute and he entered the clinic of Dr. Daniel Jacobson. The therapy Munch received in hospital changed his personality, and after returning to Norway in 1909 he showed more interest in nature subjects, and his work became more colorful and less pessimistic. He died 1944, about a month after his 80th birthday.
Read More