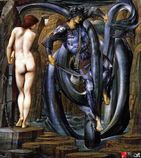 A pupil of Dante Gabriel Rossetti and a protégé of John Ruskin Edward Burne-Jones belonged to the second generation of the Pre-Raphaelite Brotherhood, creating a narrative style of romantic symbolism steeped in medieval legend and fused with the influence of the Italian Rennaissance. He became one of the most sought-after painters in Europe.
Edward Coley Burne-Jones was born at 11 Bennetts Hill, Birmingham, on August 28 1833. Within days his mother, Elizabeth, died and the child was raised by his father, also Edward, a gilder and frame maker. While birth certificates were not introduced until three years later, a record of his baptism at St Philip's Church (now Birmingham Cathedral) on 1 January 1834 is stored in the Birmingham Archives and Heritage Service. He later designed the magnificent stained glass windows for St Philip's.
Burne-Jones spent the first 20 years of his life in Birmingham, then a grimy industrial town. His earliest memories are said to have been of the city's celebrations for Queen Victoria's coronation.
At the age of 11, the young Edward Burne-Jones was admitted to King Edward VI School, then situated in New Street. Demolished in 1936, the building was designed by Sir Charles Barry and Augustus Pugin, the architects responsible for the Houses of Parliament.
According to King Edward's School's archives, Burne-Jones was regularly at the top of his class and won many prizes, particularly for mathematics. He also showed a talent for drawing - including caricatures of his teachers. Some years ago, the school's archivists discovered a series of small portraits and caricatures of masters and pupils which many believe to be the work of the young Burne-Jones, although experts have failed to reach a firm conclusion.
King Edward's School chapel; moved from the New Street school where it was the Upper Corridor.
In 1853, he went up to Exeter College, Oxford, and it was here he met William Morris. At that time, both men intended to go into the Church but, after a tour of northern France in 1855, Burne-Jones decided to become a painter and Morris to train as an architect. Both left Oxford without graduating. From November 1856 he and Morris shared rooms in London at 17 Red Lion Square, which previously had been occupied by Rossetti and Walter Deverell. Known to early friends simply as Jones, he adopted the name of Burne-Jones at about this time.
Apart from a few informal lessons from Rossetti, whom he met in 1856, Burne-Jones was largely self-taught, his early work consisting of pen and ink drawings and watercolours - all of romantic or literary subjects. He took part in the Oxford Union mural campaign in 1857, joined the Hogarth Club in 1858, and in the following year made the first of four lengthy trips to Italy. In 1860 Burne-Jones married Georgiana Macdonald, the sister of an old school friend. Their first home was at Great Russell Street, in rooms vacated by Henry Wallis, and they were regular guests of William and Jane Morris at Red House, which Burne-Jones helped to decorate. He designed stained glass for several manufacturers before becoming the principal designer for Morris' firm, especially after its reconstitution in 1875.
Enjoying the patronage of John Ruskin, who accompanied him and Georgiana on a second trip to Italy in 1862, Burne-Jones began to develop a personal style in which elements of Rossettian Pre-Raphaelitism were fused with the influence of classical art and Old Master painting. The discipline of drawing, preferably from the live model, was central to his art, and became a daily practice after he settled in The Grange, Fulham, in 1867. He had been elected an Associate of the Old Water Colour Society in 1864 - The Merciful Knight was one of his first exhibits - but he resigned in 1870 after criticism of Phyllis and Demopho, with its large nude male and female figures. In the same year he narrowly survived the scandal of an affair with one of his models, Maria Zambaco.
Concentrating increasingly on oil painting, Burne-Jones was a major contributor to the first exhibition of the Grosvenor Gallery in 1877, at which he achieved sensational popular acclaim. This was echoed in France with works shown at the Exposition Universelle in 1878. An appearance later that year as a witness for Ruskin in the notorious libel case with James McNeill Whistler was a less happy event.
His later work included many large oils, such as The Golden Stairs (1880) and King Cophetua and the Beggar Maid (1884) both in the Tate Gallery, London and several series of paintings, notably Pygmalion and the Image, Perseus (1875-1885) and The Briar Rose. In bringing these works to fruition, he was greatly aided from 1869 by his studio assistant Thomas Matthews Rooke (1842-1942).
Burne-Jones habitually reused preparatory drawings and designs for projects in different media, from decorated tiles and pianos to jewellery and theatrical costume, many of which are in Birmingham's collection. Two final collaborations with Morris led to outstanding designs for tapestries, dating from the late 1880s - the finest being the Holy Grail series now in Birmingham Museum and Art Gallery, where they are exhibited occasionally - and a plethora of illustrations for the Kelmscott Press, whose greatest achievement was the folio Chaucer of 1896. Reluctantly, Burne-Jones accepted an Associateship of the Royal Academy in 1885, but exhibited only once and resigned in 1893. In 1894, Prime Minister Gladstone offered him a baronetcy.
Edward Burne-Jones died in Fulham on 16 June 1898 and was buried in the churchyard at Rottingdean, Sussex, where he had a country home.
Read More