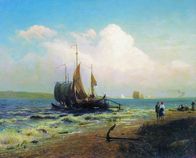 Fyodor Alexandrovich Vasilyev was born on February, 22nd (10th), 1850 in the town of Gatchina into the family of a postman. In 1862, as a teenager, he already served at the post office. In 1865 he quit his job and started to study in the Painting School of the Society for Encouragement of Arts in St. Petersburg.
In 1870 he cruised along Volga River together with painters Ilya Repin and Yevgeni Makarov and painted the canvasses Thaw, A View on Volga and Winter Landscape, which gained him fame at once.
The same year a misfortune befell the artist - he got seriously ill with tuberculosis. Under the invitation of Count Stroganov he unsuccessfully tried to recover in the latter's estate. The Society for Encouragement of Arts assigned to him money for a trip to the Crimean peninsula. Before that he was enlisted a free-attending student at the Academy of Arts.
Within two years in Crimea the artist made a great number of drawings, and painted the canvasses Bog and Crimean View. These paintings won him the award of the Encouragement Society in 1872.
on October, 6th, 1873 Feodor Aleksandrovich Vasilev died in Yalta, at the age of 23, where he was laid to rest at the Polykurovsky Cemetery.
All his paintings, even unfinished ones, were bought up. Apart from the above mentioned works, his best paintings include Thunder-Storm Approaching, Seaside, and Wet Meadow.
Read More