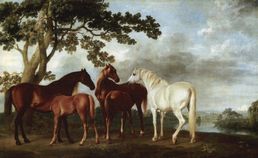 George Stubbs was an English anatomist and animal painter, especially of horses, Stubbs's work captures the English gentleman's enjoyment of rural life, at its peak in the prosperity of the mid-18th cent. Stubbs's paintings of racehorses, often with owner or groom, were particularly popular both in original form and as prints. His anatomical skills ensured that the power and beauty of animals was captured without sentimentality.
Born the son of a leather worker in Liverpool, Stubbs was largely self-taught, earning his living up to his mid-30s as a portrait painter and engraver. In 1751, on the basis of his own dissections, he illustrated a medical treatise on midwifery. He spent 18 months dissecting and drawing horses in preparation for his great work, The Anatomy Of A Horse. Upon publication in 1766, it was received with high praise for both its beauty and scientific accuracy. His scientific curiosity also extended to other animals.
Stubbs' best-known work is the large-scale Whistlejacket, circa 1762, commissioned by the 2nd Marquess of Rockingham. In a break from convention, this magnificent racehorse is shown rearing against a stark, plain background.
Read More