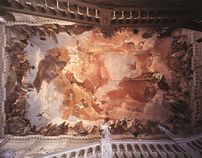 The Venetian Giovanni Battista Tiepolo (1696–1770) was arguably the greatest painter of eighteenth-century Europe and the outstanding first master of the Grand Manner. His art celebrates the imagination by transposing the world of ancient history and myth, the scriptures, and sacred legends into a grandiose, even theatrical language. His art, with its genial departures from convention and its brilliant use of costumed splendor, celebrates the notion of artistic caprice (capriccio) and fantasy (fantasia). In his hands, the informal oil sketch (1977.1.3) was raised to a primary art form, worthy to be collected alongside his finished paintings. For his incomparable fresco decorations—such as those in Palazzo Labia, Venice, depicting the story of Anthony and Cleopatra—he collaborated with a specialist in perspective, Girolamo Mengozzi Colonna (1688–ca. 1766), who also occasionally designed sets for opera.
Tiepolo was born in Venice and was trained there by Gregorio Lazzarini. He was influenced by his near contemporaries, Piazzetta and Ricci, but is indebted above all to his predecessor Veronese. In 1719 he married the sister of Francesco Guardi, and in his early years worked in Udine (1726), Milan (1731-40) and Bergamo (1741-2), as well as Venice. He moved in 1750 with his sons, Domenico (a considerable artist in his own right) and Lorenzo, to Würzburg to decorate the residence of the Prince-Bishop, and returned to Venice in 1753. In 1755 he was elected Director of the Accademia, Venice.
His later works, quieter and less exuberant in character, were carried out in Spain, where he moved with his sons in 1762 to work for the Spanish monarchy, and where he died.
Read More