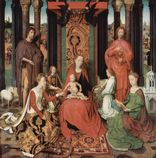 Hans Memling (also spelled Memlinc), leading Flemish painter of the Bruges school during the period of the city's political and commercial decline. The number of his imitators and followers testified to his popularity throughout Flanders. His last commission, which has been widely copied, is a Crucifixion panel from the Passion Triptych (1491).
Hans Memling was born in Seligenstadt, a hamlet near Frankfurt. His early training probably took place in Cologne, though by 1465 "Jan van Memmelynghe" was recorded as a citizen of Bruges in the Lowlands. It is conjectured that, previous to entering the painters' guild at Bruges, Memling spent time as an apprentice in the workshop of Rogier van der Weyden in Brussels. The evidence for this association, however, is far from conclusive and does not prove a master-pupil relationship. Nothing further is known concerning the artist's early professional training.
From the first Memling displayed the highest standards of technical proficiency and pictorial sophistication in his work. The full corpus of his paintings, in fact, represents a single standard of perfection in which one can discover little stylistic change or development. His earliest known painting, for example, the Chatsworth Triptych, commissioned by the English lord Sir John Donne of Kidwelly in 1468, displays a surprising maturity of style. Blending a figure style derived from Rogier van der Weyden with compositional motifs and other details from Jan van Eyck, Memling created the prototype of the rational and balanced design upon which he so often relied throughout his long and active career.
Memling's search for rational order and compositional equilibrium, however, often obscures his truly progressive outlook and the many innovations found in his work. In such early paintings as the Scenes of the Passion he combined a bold, panoramic vista with unprecedented narrative detail. In his most famous work, the Shrine of St. Ursula, he further developed this closely observed anecdotal genre.
The Triptych of the Mystic Marriage of St. Catherine (1479) represents Memling's highest achievement as a painter. In this work he skillfully combined compositional stability with great pictorial variety. Sparkling colors and luminous surfaces interact with solid, plastic forms and broad spatial recessions to create one of the great masterpieces of 15th-century Netherlandish painting.
As a portraitist, Memling further revealed his originality. The Diptych of Martin van Nieuwenhove contains a unique elaboration of the interior setting, and the famous portrait Man with a Medal is the first northern figure posed entirely against a landscape background.
When he died, Memling was one of the hundred wealthiest citizens of Bruges. He was also, in the words of a contemporary, "the most accomplished and excellent painter of the whole Christian world."
Read More