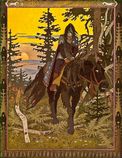 Ivan Bilibin was a Russian painter, born in St. Petersburg in 1876. He was raised fairly isolated from the traditional Russian art community and found himself inspired by Russian folk art & fairy tales.
His love of the wilderness of Old Russia and the mythology that arose from it propelled Ivan into a career of illustration and mural painting.
An art nouveau flair combined with his attention to detail led Ivan to later become an accomplished & sought after stage designer for opera and ballet.
Not necessarily known for his horses, Mr. Bilibin applied his unique skills to bring them to life as he did the Russian tales he was so fond of.
Read More