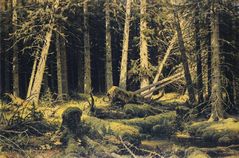 Ivanovich Shishkin (1832 – 1898) was a Russian landscape painter closely associated with the Peredvizhniki movement. Peredvizhniki, often called The Wanderers or The Itinerants in English, were a group of Russian realist artists who in protest at academic restrictions formed an artists' cooperative; it evolved into the Society for Travelling Art Exhibitions in 1870. van Ivanovich Shishkin was born into a middle class family. Although he showed an exceptional talent for art from an early age, his family only reluctantly agreed to allow him to become a painter. On graduating from high school, he then spent four years studying at the Moscow School of Painting, Sculpture and Architecture, after which he enrolled at the Imperial Academy of Arts for another four years, from 1856 to 1860. During his time at the Academy he won a series of awards and, on graduation, he received a Gold Medal (for his work View of Valaam Island, Kukko. 1860, Russian Museum, St Petersburg) plus a scholarship allowing him to study abroad for three years.
Accordingly in 1862 he set off for Europe, where he studied drawing, painting, lithography and etching, mostly in Germany and Switzerland. In 1865, he painted View near Dusseldorf (1865, Russian Museum, St. Petersburg) which gained him full membership of the Imperial Academy of Arts, and which was later displayed at the World Fair in Paris (1867).
On his return to Russia, he became a founder member of the progressive artist group known as The Association of Travelling Art Exhibitions (aka TheWanderers). He also joined the Society of Russian Watercolourists, and participated in exhibitions at the Academy of Arts, the All Russian Exhibition in Moscow (1882) and Nizhny Novgorod (1896), as well as World Fairs in Paris (1867 and 1878), and Vienna (1873). In 1873 he became Professor of Painting at the Imperial Academy - a position he retained until 1898.
Shishkin went on to produce hundreds of landscape paintings - many of which were bought by the Russian art collector Pavel Tretyakov - several thousand studies and drawings, as well as a large number of engravings. Sadly, the success he obtained in his career as an artist was not repeated in his personal life. He married twice but both times his wife died, as did his children. Despite this, he continued painting until the day he died. His last completed work wasMast-Tree Grove (1898, Russian Museum). He passed away in St Petersburg at the age of 66.
Read More