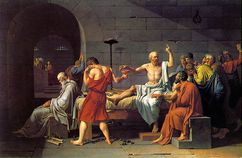 Jacques-Louis David (1748–1825) gained prominence as a history painter in the Royal Academy prior to the events of the Revolution with works such as the Oath of the Horatii(1784) and The Lictors Bring to Brutus the Bodies of His Sons. Borrowing from historical tales, these works promoted the ideal of commitment to the Republic above all.
David became one of the key artists of Revolutionary and Napoleonic France. He was elected to the National Convention in 1792 and served as a member of the Committee of General Security and the Committee of General Instruction, a key supporter of the radical Jacobin faction that sought to suppress all moderate supporters of the Revolution. His vote in favour of the death of the King caused his royalist wife to divorce him (they were later remarried). He was also to sign the arrest warrant for Alexandre de Beauharnais, a minor noble whose widow would become Josephine, the future wife of Napoleon Bonaparte.
As well as producing paintings that supported Republican ideals, David was responsible for the design of Revolutionary dress – again taking inspiration from the Roman Republic – and for the costumes of State. He designed pageants and festivals that depicted the principles of the Revolution, in which (unlike those of previous times) the people were able to participate, building their collective interests and identifying themselves with the new Republic.
With the fall of Robespierre, David was imprisoned and narrowly escaped the guillotine. On his release, he gained the attention of Napoleon who made him First Painter to the Emperor when the Empire was proclaimed in 1804, and commissioned him to document the coronation ceremony. The first image was theConsecration of the Emperor Napoleon and Coronation of the Empress Josephine (December 2, 1804).
Along with Jean-Baptiste Isabey (1767–1855), who designed Josephine's coronation gown and mantle, David designed elements of the coronation ceremony to lend the occasion a sense of gravitas and authority.
David was supplanted in the Emperor's favour by his students who included Jean-Auguste-Dominique Ingres (1780–1867), Antoine-Jean Gros (1771–1835), Jean-Baptiste Isabey (court artist, garden and fete designer and friend to Josephine) and Fran?ois Gérard (1770–1837).
On the restoration of the monarchy in 1814, David – despite being granted amnesty – chose self exile in Brussels where he continued to paint portraits and history paintings. He died on 29 December 1825 from injuries sustained from a carriage accident.
Read More