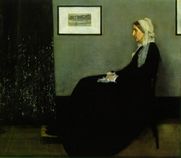 As an American painter, etcher, and lithographer, James Whistler created a new set of principles for the fine arts, championed art for art's sake, and introduced a subtle style of painting in which atmosphere and mood were the main focus.
James Abbott McNeill Whistler was born of Scottish-Irish ancestry. As a boy he spent some time in Russia at St. Petersburg, where his father was a civil engineer; after a short stay in England en route, he was back in the United States by 1849. He attended the United States Military Academy at West Point, but he soon abandoned the army for art.
Like many of his compatriots he was fascinated by Paris, where he arrived in 1855 to study painting and soon adopted a Bohemian lifestyle. He was drawn to the French modern movement, responding to the realism associated with the painters Gustave Courbet, Henri Fantin-Latour, and Fran?ois Bonvin, all of whom he knew. The realistic streak in his art may be seen in such early works as Self-Portrait (c. 1857–58) and the Twelve Etchings from Nature (1858).
During the 1860s Whistler moved between England and Paris; he also visited Brittany (1861) and the coast near Biarritz (1862), where he painted with Courbet and evinced that love of the sea that was to mark a number of his later small oil studies and watercolours. In 1863 Whistler settled in London, where he found congenial themes on the River Thames, and the etchings that he did of such subjects garnered praise from the poet and critic Charles Baudelaire when they were exhibited in Paris.
In 1871 Whistler published the sixteen etchings, Views of the Thames, known as the Thames Set. He also did a series of atmospheric paintings which he called nocturnes. He liked to go out on the river at twilight and was fascinated by the foggy or misty effects in the fading light. In putting these impressions on canvas from memory, he made use of the Japanese concept of space as a well-balanced design in which perspective plays no part. In the famous Arrangement in Grey and Black, the Artist's Mother (1872) he composed the picture with disarming simplicity, keeping the Japanese concept of space in mind.
During 1877 Whistler exhibited several paintings, including Falling Rocket, a nocturne showing the mysterious and elusive (hard to grasp) effects of fireworks at night at Cremorne Gardens. It outraged John Ruskin (1819–1900), considered the country's finest judge of good taste in England, and he wrote an insulting review of the exhibition. Whistler sued him for libel (a written statement that hurts someone's public image) in what was the most sensational art trial of the century and was awarded very little money. The trial ruined Whistler financially, and he had to sell his new house and sell off his porcelain collection.
Fortunately, the Fine Arts Society commissioned Whistler to do twelve etchings of Venice, Italy. He spent fourteen months in Venice doing many etchings as well as small oils, watercolors, and pastels. His etching style was now completely changed. He treated his themes with the utmost delicacy, using a spidery line and lively curves, and he often wiped the plates to give tone. His Venetian work sold well and he was financially reestablished. He took a house in London with Maud Franklin, who had replaced Jo as model and mistress.
On the evening of January 31, 1885, Whistler delivered at Prince's Hall the "Ten O'Clock," his famous lecture summing up his theories on the nature of beauty in polished prose. He mentioned the poetry that evening mists produce when "the tall chimneys become campanili and the warehouses are palaces at night."
1888 Whistler married E. W. Godwin's widow, Beatrix. The Whistlers moved to Paris in 1893 but two years later were back in England. Trixie, as his wife was called, died of cancer in 1896. After her death, Whistler maintained studios in both Paris and London. He died in London on July 17, 1903.
Read More