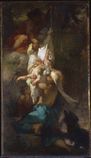 Jean-Fran?ois Millet was a French painter and one of the founders of the Barbizon school in rural France. He is noted for his scenes of peasant farmers. He can be categorized as part of the movement termed "naturalism", but also as part of the movement of "realism".
Born in the village of Gruchy, in Gréville-Hague (Normandy), Millet moved to Paris in 1838. He received his academic schooling with Paul Dumouchel, and with Jérome Langlois in Cherbourg. After 1840 he turned away from the official painting style and came under the influence of Honoré Daumier. In 1849 he withdrew to Barbizon to apply himself to painting many, often poetic, peasant scenes.
One of the most well known of Millet's paintings is "The Gleaners" (1857), depicting women stooping in the fields to glean the leftovers from the harvest. It is a powerful and timeless statement about the working class.
Picking up what was left of the harvest was regarded as one of the lowest jobs in society. However, Millet offered these women as the heroic focus of the picture; previously, servants were depicted in paintings as subservient to a noble or king. Here, light illuminates the women's shoulders as they carry out their work. The forms of the three figures themselves nearly silhouetted against the lighter field, show balance and harmony.
Commissioned by a wealthy American, Thomas G. Appleton, and completed during the summer of 1857, Millet added a steeple and changed the initial title of the work, "Prayer for the Potato Crop" to "The Angelus" when the purchaser failed to take possession in 1859. Displayed to the public for the first time in 1865, the painting changed hands several times. The disparity between the apparent value of the painting and the poor estate of Millet's surviving family was a major impetus in the invention of the droit de suite, intended to compensate artists or their heirs when works are resold. "The Angelus" was reproduced frequently in the 19th and 20th centuries. Salvador Dalí was fascinated by this work, and wrote an analysis of it, The Tragic Myth of The Angelus of Millet.
Read More