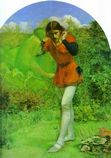 John Everett Millais, 1st Baronet, PRA was a British painter and illustrator and one of the founders of the Pre-Raphaelite Brotherhood.
Millais was born in Southampton in 1829, of a prominent Jersey-based family. His prodigious artistic talent won him a place at the Royal Academy schools at the unprecedented age of eleven. While there, he met William Holman Hunt and Dante Gabriel Rossetti with whom he formed the Pre-Raphaelite Brotherhood in September 1848.
Millais "Christ In The House Of His Parents" (1850) was highly controversial because of its realistic portrayal of a working class Holy Family laboring in a messy carpentry workshop. Later works were also controversial, though less so. Millais achieved popular success with "A Huguenot" (1852), which depicts a young couple about to be separated because of religious conflicts. He repeated this theme in many later works.
All these early works were painted with great attention to detail, often concentrating on the beauty and complexity of the natural world. In paintings such as "Ophelia" (1852) Millais created dense and elaborate pictorial surfaces based on the integration of naturalistic elements. This approach has been described as a kind of "pictorial eco-system".
After his marriage, Millais began to paint in a broader style. Paintings such as "The Eve of St. Agnes" and "The Somnambulist" clearly show an ongoing dialogue between the artist and Whistler, whose work Millais strongly supported. Other paintings of the late 1850s and 1860s can be interpreted as anticipating aspects of the Aesthetic Movement.
Later works were of an historical theme and were other examples of Millais' talent. Notable among these are "The Two Princes Edward and Richard in the Tower" (1878), "The Northwest Passage" (1874) and the "Boyhood of Raleigh" (1871).
Fascination with wild and bleak locations is also evident in his many landscape paintings, which usually depict difficult or dangerous terrain, such as "Chill October" (1870). Millais achieved great popularity with paintings of children, notably "Bubbles" (1886).
Millais was successful book illustrator, notably for the works of Anthony Trollope and the poems of Tennyson. His complex illustrations of the parables of Jesus were published in 1864. In 1869 he was recruited as an artist for the newly founded weekly newspaper The Graphic. Millias was also elected as an associate member of the Royal Academy of Arts in 1853, and was soon elected as a full member of the Academy, in which he was a prominent and active participant. In 1896, Millais was elected President of the Royal Academy, but he died later in the same year from throat cancer.
Read More