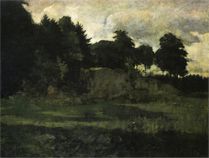 John Henry Twachtman was at the forefront of the American avant-garde throughout his career. The work of his Greenwich Period, for which he is best known, was influenced by Impressionism and Tonalism, yet Twachtman's stylistic synthesis was unique. Often compared with Claude Monet and James McNeill Whistler, Twachtman developed an experimental technique and explored innovative compositional means to create subtle and poetic images that anticipated directions in twentieth-century abstract painting.
Born in Cincinnati, Ohio, to German immigrant parents, Twachtman found his first employment in his hometown at Breneman Brothers, a design firm that produced window shades, where his father also worked. At age fifteen, he enrolled as a part-time student in the School of Design at the Ohio Mechanics' Institute. In 1871 he transferred to the McMicken School of Design where his classmates included Kenyon Cox, Joseph DeCamp, Robert Blum, Lewis Henry Meakin, and William Baer, all of whom achieved artistic prominence in their later careers. Frank Duveneck, however, was the most important contact of Twachtman's Cincinnati years. Twachtman had known Duveneck through mutual ties in the Cincinnati German community, but the younger Twachtman came under the slightly older artist's influence when he joined the evening class Duveneck taught at the Mechanics' Institute in 1874-75 on his return from four years of study at the Munich Royal Academy.
Duveneck invited Twachtman to paint in the studio he shared with Henry Farny and the sculptor Frank Dengler, and in 1875 when Duveneck returned to Munich, Twachtman accompanied him. Enrolling in the Munich Royal Academy in the Fall of 1875, Twachtman studied under Ludwig von Loefftz, a painter of realist genre scenes. In the summer of 1876, Twachtman visited the small Bavarian town of Polling, which had attracted a large community of artists including many American painters. American artists Charles Ulrich and Walter Shirlaw also spent time in Polling in the summer of 1876.
In the spring of 1877 Twachtman joined Duveneck and William Merritt Chase in Venice, where he remained for approximately nine months. After returning to America in 1878, Twachtman briefly visited Cincinnati before going to New York. There, in 1878, he participated in the first exhibition of the Society of American Artists, which elected him to membership in 1880. During his time in New York, Twachtman lived in the Benedict building on Washington Square, painted the city's harbors in a bold realist style, and participated in the activities of the Tile Club. Many important contacts were made in Tile Club gatherings including artists J. Alden Weir and R. Swain Gifford.
Twachtman returned to Cincinnati in the fall of 1879 to teach at the Women's Art Association, remaining in Cincinnati through the summer of 1880. In October he sailed for Italy. Reaching Florence in the next month, he became a teacher in a school that Duveneck had established there and fraternized with a group of fellow painters, who became known as the Duveneck "boys." These included Otto Bacher, Oliver Dennett Grover, Louis Ritter, Theodore Wendel, and Joseph DeCamp.
Read More