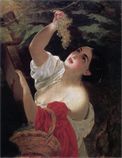 Karl Pavlovich Bryullov is Russian painter, portraitist, genrist.
When Bryullov was born in 1799, the Neoclassical style in Russia still reigned, but the period of its greatest productivity and popularity was over. Perhaps this influenced Briullov's early distaste for the return to classicism; at any rate, despite his education at the St.Petersburg Academy of Arts (1809-1821), Bryullov never fully embraced the style taught by the Academy. After distinguishing himself as a promising and imaginative student and finishing his education, he left Russia for Rome. Here he worked until 1835 as a portraitist and genre painter, though his fame as an artist came when he got involved in historical painting. His most famous work, The Last Day of Pompeii (1830-1833), created a sensation in Italy and established Bryullov as one of the finest painters of his day.
The topic is classical, but his dramatic treatment and generous use of chiaroscuro render it somewhat farther advanced from the neoclassical style. In fact, The Last Day of Pompeii exemplifies many of the characteristics of romanticism as it manifests itself in Russian art, including drama, realism tempered with idealism, increased interest in nature, and a zealous fondness for historical subjects. According to Hamilton, Sir Walter Scott is reported to have looked at the painting for an hour and declared afterwards that it "wasn't a painting, but an epic". Although by today's standards we may find the painting somewhat theatrical and lacking in life, it is certainly an important achievement for an artist in the early nineteenth century, and a significant step in the development of historical painting in Russia.
Soon after The Last Day of Pompeii, Bryullov returned to Russia , where he was joyously received. While teaching at the Academy (1836-1848) he continued his own artistic efforts, but was unable to produce a work comparable to his "masterpiece." His portrait painting, however, was more successful, at least in retrospect. His portrait style combined a neoclassical simplicity with a romantic tendency that fused well, and his penchant for realism was satisfied with an intriguing level of psychological penetration. A transitional figure between Russian neoclassicism and romanticism, Bryullov may be considered the first Russian artist of international fame.
Read More