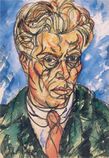 László Moholy-Nagy was an abstract painter, designer, typographer, photographer, film-maker and theorist. He is arguably one of the greatest influences on post-war art education in the United States. A modernist and a restless experimentalist from the outset, the Hungarian-born artist was shaped by Dadaism, Suprematism, Constructivism, and debates about photography.
Laszlo Moholy-Nagy was born in a small farming town in southern Hungary. His father abandoned the family when he was young, and his mother took Laszlo and his younger brother to live with their grandmother. "I lived my childhood years in a terrible great quietness," he later wrote. He left for Budapest in 1913 to study law, but his studies were interrupted when he was drafted into the Army as an artillery officer in 1916. He experienced the horror of war on the Russian and Italian fronts, which remained with him for the rest of his life. He drew daily during this time as a soldier, sketching field life, his fellow officers, and the civilians he encountered. He discovered a passion for drawing, and though he finished his law degree after the war ended, he had already decided to become a painter
Laszlo Moholy-Nagy Moved to Berlin 1920-3. Began to paint abstract pictures in 1920 under the influence of Malevich and Lissitzky, and had his first one-man exhibition at the Galerie Der Sturm, Berlin, 1922. Met Gropius and was appointed in 1923 to the Bauhaus at Weimar, first as head of the metal workshop, then head of the preparatory course; moved with the Bauhaus to Dessau 1925. Became much involved with experimental photography, including photograms, and published Malerei, Fotographie, Film1925. He made a 'Light-Space-Modulator' 1922-30. Resigned from the Bauhaus in 1928 and returned to Berlin, where he temporarily more or less gave up painting and made stage designs, abstract films and typographical works. H published Vom Materiel zur Architektur 1929. Moved to Amsterdam in 1934 and from 1935-7 lived in London, where he worked as art adviser to Simpson's and London Transport, and began to make paintings incorporating plastics. Moved in 1937 to Chicago, where he became director of the New Bauhaus and later opened his own School of Design. He died in Chicago.
Read More