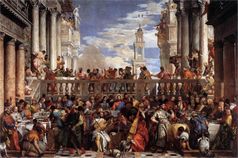 Paolo was born in Verona - hence his popular name Veronese. His real name was either Cagliari or Caliari. After several years of study in Verona he moved to Mantua in 1548, and then on to Venice in 1553. He would remain based in Venice for the rest of his life.
He was trained in Verona by the local painter Antonio Badile, whose daughter he married in 1566. In Venice the colouring of Titian influenced him deeply. Tintorettowas also an influence, and an attraction to Mannerism shows in works such as'The Consecration of Saint Nicholas'. However, Veronese went on to develop his own more decorative style.
In 1573 the Inquisition took exception to some irreverent detail in a Last Supper by Veronese. In a fascinating exchange with the Inquisitors he defended the painter's right to 'take the same licence as poets and jesters take'. He eventually changed the title of the picture to 'Supper in the House of Levi', rather than change the picture itself.
Throughout the 1560s and 70s Veronese produced mythological pictures for an international clientele, including two paintings bought for Philip IV by Velázquez on one of his Italian visits.
Veronese ran a large workshop, assisted by his brother Benedetto and his sons Carlo and Gabriel. They carried on his studio after his death.
Read More