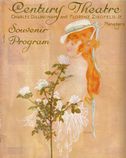 Raphael Kirchner (1876-1917) was an Austrian portrait painter and postcard illustrator. He was born in Vienna, Austria in 1876 and attended the Academy of Fine Arts Vienna. He moved to Paris in the year 1900 making illustrations for such magazines as La Vie Parisienne.
Raphael Kirchner produced thousands of postcards in his lifetime. His most popular series of postcards was his "Geisha" series.
In 1914 Kirchner moved to the United States where he remained until his death in 1917.
Read More