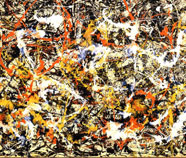 The style of painting called Action Painting incorporates a variety of different techniques that many different artists have used in the past in order to bring a bright, vivid painting to life. Many of these techniques are used in other styles of painting, but when put together, they form a wild array of different colors with contrasting and vivid details. The techniques that are used in action paintings are dripping, dabbing, smearing and sometimes flinging paint onto the canvas from a distance in order to create a very unique look. Depending on the artist that chooses to use techniques involved in action paintings, the amount of control that artist has over the placement of the paint on the canvas will tend to vary. The style that is chosen by the artist depends on the type of mood that they painting will reveal to the viewer, as well as the colors and various ways of splashing the paint across the canvas will be carried out.
Action Painting is also known as Gestural Abstraction, as it is based on random occurrences that happen over the course of the process used to complete the painting. Abstract Expressionism was a large part of the creation of action painting, as the Abstract Expressionism movement used a variety of different vivid colors and wild techniques in order to express the emotion that the artist felt while painting. In addition to the Abstract Expressionism movement's influence on action painting, the New York School played a large part in the development of this style from the late 1940s until the 1960s, with a variety of different popular artists such as Jackson Pollock, Franz Kline, and Willem de Kooning. This led to a much different style of painting that the world had not been introduced to before, and led to the popularity of this abstract style of art.
Action Painting is a term that is widely known today, but just a few decades ago was never heard of. The term was actually coined by a renown art critic named Harold Rosenberg who thought the term fit the style of artistry perfectly. The term was brought to life and gained popularity through his article "American Action Painters" which depicted a variety of different painters and the styles that they used throughout the time period. Action Painting is also very popular in France, although the French have begun using another word for this style of painting: Tachisme.
Read More