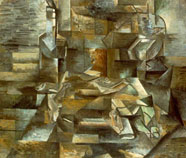 Cubism is a style of art that originally began in the early 20th century. The movement began due to the influence of both George Braque and Pablo Picasso, along with Jean Metzinger, Albert Gleizes, Robert Delaunay, Henri Le Fauconnier, Fernand Leger, and Juan Gris. This style of art changed the entirety of European sculpture work as well as the styles of paintings that were used, as well as served as the inspiration for many of the movements that were brought about in the same time in music, literature and architecture. This term is used to describe many of the different artworks that were produced by artists in Paris in the 1910s and throughout the 1920s.
The main influence that began Cubism was the three-dimensional work that Paul Cezanne produced, which were displayed in the Salon d'Automne in 1907. This piece of work led to the Cubist movement, which included objects that were analyzed thoroughly, broken apart and then reassembled in a form that was abstract from the beginning object. Once the piece was reassembled, it would then be depicted from a variety of different viewpoints in order to give a more accurate representation of the object in a much greater scale than it was given before. This allowed the viewer of the painting to gain a view of the object that was incredibly interesting and profound, although the object did not include the exact resemblance of the previous object.
The Analytical Cubism paintings were meant to mimic the original works of Cezanne, while favoring a still-life landscape perspective on large modern subjects. This allowed the pieces of work to appeal to the general public, while keeping the style of subjects themed around literary and philosophical ideals. The multiple perspective ideal was not given much attention at first, and was actually debated at one point, as the artists were taken to court in order to determine if the money provided should be used to fund this type of artwork, or if the funds should be stripped from the artists and given back to the overall government of the time.
Cubism today depicts many of the older values that people held in the 1910s and onward, as well as many philosophical connotations that people could connect with. By providing multiple perspectives on the same type of object, many different sides can be seen in a single two dimensional painting, giving it a much more three dimensional feel.
Read More