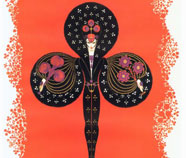 The original styles of French Art Nouveau and English Aesthetic lasted for quite some time unrivaled and unmatched, but eventually the style of Art Deco was born of these two incredibly popular styles. In addition to a variety of different elements that compose the majority of French Art Nouveau and English Aesthetic, Art Deco paintings also incorporate many different aspects of different Arts and Crafts form, although the style itself is not exactly like any of the three styles of art. Because this distinct style of painting incorporates such a wide variety of different elements that are all drawn from widely different sources, there are many historians that have chosen to speak out against Art Deco paintings being called a specific style at all, and have instead classified them as a mixture of different styles. Even though the historians that feel this way do not support the stylistic distinction that Art Deco paintings are given by many different artists and viewers of this type of paintings, there have been a variety of different surges in popularity for paintings that utilize the Art Deco style of painting.
Art Deco paintings have heavily influenced a variety of different styles that have come after the period in which this style was born (around the time of World War I, developing into the period in which World War II began.) Art Deco paintings rely heavily on embellishments to the surface of the paintings in order to give a three dimensional feel to the painting. This draws from the styles of both Impressionism and Cubism, as the effect gives different views to the painting, although the painting itself utilizes many different Chinese and Japanese art aspects, instead of the traditional Cubist style of giving different views of the same object within the same picture.
There are a variety of different techniques that are used in Art Deco paintings to bring life to the surface of the canvas, such as embossing, enameling, marquetry and other techniques drawn from the Japanese culture and other English Aesthetic art styles. In the 1920's, most artists in this type of style used incredibly bright and vivid colors to bring light into the painting and catch the eye of the viewer, but as the style developed and artists began to branch out into their own unique style of Art Deco painting, colors began to swing between vivid colors and much deeper colors, depending on the mood that the painting represents.
Art Deco is an ever-evolving style of art that has recently resurfaced in the art world. Although it may not be a distinct style to many historians, it did play quite a large part in the adaptations of older styles, and the creation of newer styles that are used today.
Read More