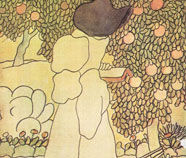 Cloisonnism was derived by many of the unique art techniques that was used in the Impressionism movement, although a variety of different artists also contributed to the development of this style that were outside of this movement. Because of the free range that the style of Cloisonnism originally had, the development was strained somewhat, as the style was not recognized as a distinct style for quite some time, and many historians argued that the style should simply be called post-Impressionism, but over the the style of Cloisonnism paintings were recognized as a unique and original art form, as many of the other art forms were simply adaptations of an art form that had been used in the past, and this style of art was no different. By using both bold and flat form of Impressionist art styles, the contrast between the two different types of painting techniques is given light in the Coisonnism Paintings. Edouard Dujardin was actually responsible for the term having a distinct meaning, as the began using the term at the Salon des Independants in 1888.
There are a variety of different incredibly popular artists in the 19th century that painted in this style, including Artists Émile Bernard, Louis Anquetin, Paul Gauguin, Paul Sérusier as well as many more artists who chose to utilize this technique of painting. Cloisonnism is named such as the style uses the technique of cloisonne, by soldering wires onto a body of metal or some other type of piece, then powdered glass is laid over the entirety of the piece, and then a flame is used in order to create a very unique type of art style that is unlike any other. As the style of Cloisonnism paintings evolved and developed, the artist Gauguin began using single, separated colors in order to give a much more contrasting tone to each piece, with heavy black outlines around the colors in order to give the form or object in the painting shape. Much of the original classical perspective that many painters used at this time was completely tossed aside in his work, and his own unique style was able to show through by blending vivid colors in order to create new bright colors that separate and contrast each piece of the art work that the canvas holds.
Cloisonnism Paintings are not created very often in the current artistry world, but many of the paintings that have survived throughout the years resurface and find popularity once more.
Read More