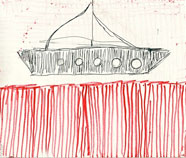 Conceptual art is often associated with modern art. Many see conceptual art as a form of art revolution that developed in the 1960's. However, it should be noted that conceptual art was already present in the art scene as early as 1917.
The idea of conceptual art was brought about by Marcel Duchamp - a French artist who first created these conceptual pieces. One of his most popular work is called "Fountain" which was actually a urinal-basin signed by him under a pseudonym. Duchamp initially received rejection for his work because of the concept of "readymades" –meaning that the objects that he used in his art were already ready made, and were not created from scratch by the artist himself. In the 1960's, Duchamp's work was acknowledged by American artist Joseph Kosuth as conceptual art.
In 1961, we encountered the first reference to the term "concept art", as it was coined by Henry Flynt - an artist who wrote an article about it. The next decade would see a more in depth analysis of what pieces of art could be considered conceptual art.
It took awhile for traditionalists to accept conceptual art as "real" art. It was always referred to as "anti-establishment" because of the artist's use of non-traditional materials. Oftentimes, conceptual art is 3D in nature - it is not just a regular flat painting mounted on a frame. Real objects are used to create a work of art. Conceptual artists often explore the concept of art-as-knowledge, and make use of various disciplines such as languages, mathematics, and the like, to create this type of art. Until now, conceptual art is something that an individual either loves or hates. It is divisive, but it evokes strong emotions and a lot of discussion, thereby making this type of art a lot more interesting.
One of the most famous artists, Andy Warhol, is well known for his conceptual art. He uses pop culture to create his art. One of his most iconic pieces is the one of Marilyn Monroe. Perhaps this revolution of conceptual art is best exemplified by these rather rebellious images - completely different from the regular artwork that we know of. Part of the debate over conceptual art is the commodification of art. Many traditionalists object to the thought of getting rich by making available these pieces of artwork commercially. For some, it seems to undermine the concept of the gallery or museum.
Eventually, the art industry accepted conceptual art as a unique form of art. Many contemporary museums such as the Museum of Modern Art (MoMA), or the Guggenheim Museum exhibit these unique pieces. Sometimes they are also called installation art. These museums exhibit work from famous conceptual artists such as Joseph Kosuth, Lawrence Weiner, Sol LeWitt and Mel Bochner.
Read More