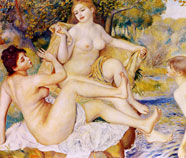 Whatever in the eastern or western culture, women's nude figures have been the inspiration behind the world's most famous works of art throughout history. Nude bodies always bring artists different imagination and their nude paintings varied in the nude beauty. Strong and handsome body is regards as the highest honor in the ancient Greek, so what they choose the most handsome human body model God. Though Greek "god" was countless, then Venus was selected as the god of beauty and love, remarks beginning of the ancient Greek culture. Venus paintings appeared in half naked to naked, from the gentle and graceful girl to robust young woman, is the different amorous feelings of the feminine beauty, and each one is unique.
Until the rise of the Renaissance, human nude body art reaches its climax as the awakening of human nature and life need, but still wrapped in religion, mythology coat. Sandro Botticelli's "Primavera" is both elegant and sorrow, the little girl feelings, make the viewers deeply moved into the painting itself. Michelangelo's sculptures or naked paintings, the potential of the human body model are not only sadness and strong thunder, fateful shock through the ages. The virgin and naked baby Jesus in Raphael's chair is really a model harmonious model, passing a model for future generations. Titian paint "God" as beautiful body, covered all ancient Greek myth, which was aptly exposed both young and old, and its colors are endless wonderful, into the light and color of nature, even influenced impressionism in the end of 19th century.
ArtisOO nude figures painting category covers the all greatest fine nude art ever produced, add a piece of nude painting reproduction to your space to show your style of human body.
Read more