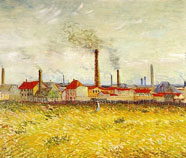 Season Circles year after year, what we have kept to record the charming of each season? Can life river across the fields of dreams? The four seasons are speechless, while we can keep the season beauty by seasonal oil paintings.
Spring is the season of initiation. Beginning of all things, bud, everything was in intensive care. Bud is a symbol of new life, new things and new ideas, even artist are more passionate with spring. Monet's "Iries", Van Gogh's Branches of an Almond Tree in Blossom, Renoir's Discarded Roses, Georges Seurat's Sunday Afternoon on the Island of La Grande Jatte all expressed that artist love paint spring paintings.
Summer artworks usually include blue sea, green lake, shipping boat, lurch tress, swimming boys, etc. In summer, we tend to seek coolness, clean out our house, hide from the glaring sun, and why not turn your house cool with a seasonal summer painting Water Lilies?
Autumn is a yellow colored season, with yellow leaves falling from trees, ripe fruit hanging on tress. Why not keep the rich color in your house or office to retain autumn? Just put on a seasonal summer artwork, let fall stay around you.
Autumn to winter, winter in people's eyes is always cold. White thick snow covered high mountains, bare tree trunks, warm sun sprinkling on the river, people; all these composed a typical winter painting.
Why not dress your wall with seasonal artworks when the season passed by? Your wall will like various seasonal paintings.
Read more